Rise of Crypto Era in India-: Fear of Indian Banks and Government Stand on Crypto
Rise of Crypto Era in India-: Fear of Indian Banks and Government Stand on Crypto-: In India, people invested a huge amount in Crypto after the sudden price hike in Bitcoin. Most of the Investor thought that crypto is the best way to double your money. To buy any crypto is just like buying any share of the company where you trust on company performance and its technology and hold it for the long term.  
People in India and around the globe went so greedy especially seeing the price hike of Bitcoin. Most of the   people Broke out there saving and fixed deposit to invest in Bitcoin and altcoin. I saw some people even took the personal loan to buy Bitcoin which was like to join rat race which already started. As far as crypto investment is a concern you should invest only those amount which can afford to lose. I always recommend my never put yourself in horrible situation or do investment like playing Gamble.
To stop the loss all major banks Banks in India withdraw their support from all major crypto exchange in India without any prior notice that results in lock of investor money in Indian crypto exchange.   Almost all major exchanges got affected by the decision of the banks. I have an account with Koinex which is one of the fastest growing crypto exchange, it ranks on 12th position on coin market cap in the term of XRP trading volume on 29 December 2017. the payment issue Koinex faces was unforeseen for them, which they inform to their user via tweet.
Banks generate revenue when people, do long-term investment with Banks like a fixed deposit or recurring deposit and banks use this investment to give home and personal loan which banks main source of revenue for the banks. People broke out their investments that were huge revenue loss of   all Banks in India,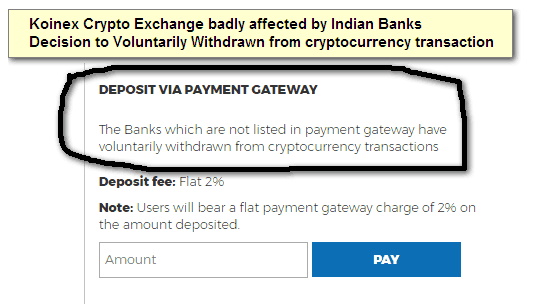 Currently there is no any regulation on crypto in India, government formed the committee and waiting for the report and buying crypto neither legal not illegal in India, government examining it and report yet to come.
Government will implement policies or framework to curb illicit activities or money laundering. Trading via exchanges and AML laws in place is not restricted or illicit, Exchanges pays Corporate taxes according to the gains they achieve.
Goverment will not recognize Crypto as a legal tender or a payment method, As legal tender backed by the countries government, it must be emphasized that gold,stocks,bonds and other such asset are also not "legal tender". 
Cryptocurrrncies do not have an issuing authority as it is decentralized and the Indian Government will have no obligation in term of   Cryptocurrencies. In essence, it cannot be used as a payments mechanism for goods or services but you are still free to trade in Cryptocurrencies as an asset or store of value.
The Indian Government has not given a directive to stop exchanges or stop trading in Cryptocurrencies.
If Indian government thinks about to make Digital India then without Blockchain Technology it is not going to possible because Crypto Like Ripple XRP and Stellar Lumens are boosting the transaction process of Indian financial system, Currently Ripple XRP is used by Axis Bank and Yes Bank and Stellar Lumens is used by India's Private sector Bank ICICI. 
If Indian government ban Bitcoin then it should not surprise me because Bitcoin is not pretty handy to use in daily life in any way does not solve the real-life problem it consume lots of electricity , data and time in its mining which makes transaction slow but of course Bitcoin is the most tested and most secure cryptocurrency and always remain as gold of crypto economy.
Disclaimer-: Please note this post is not an Investment advice in Crypto market through this post I am sharing my study and research on the crypto market please do your own research and study before making an investment in the crypto market as the crypto market is very volatile. all the opinion shared in this post are my own you are free to agree or disagree.
Note-: This Post Already Published on My Steemit Channel, You can Follow me on Steemit as well, at https://steemit.com/@amar-patel/feed.
I hope you like my Post , If you like it  do me a favour by sharing it with your friends. You may consider to  Subscribe Techfloyd Newsletter for latest technical tips directly to your E-mail Inbox. You can also follow Techfloyd on Facebook, Google+  and Twitter.