The Best Alternative to AirDrop for Windows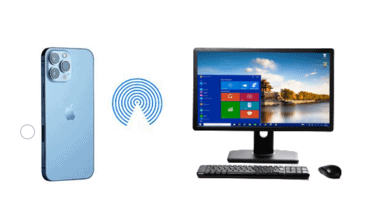 Can you install AirDrop on Windows?
AirDrop is an exclusive feature developed by Apple and is only available on iOS and macOS devices. Unfortunately, there is no official version of AirDrop for Windows. This limitation has created a demand for a reliable alternative that allows Windows users to enjoy seamless file transfer capabilities.
Luckily, here in this guide, we will introduce you an AirDrop alternative for Windows, enabling you to transfer files among iOS devices and Windows PC.
Best alternative to AirDrop for Windows – FoneTool
FoneTool, a comprehensive iOS data management tool, offers the best alternative to AirDrop for Windows users. With its user-friendly interface and powerful features, FoneTool allows seamless file transfer between iOS devices and Windows computers.
Overview of FoneTool
FoneTool is a versatile software designed to meet various iOS data management needs. Its intuitive interface and advanced functionalities make it a reliable choice for Windows users who want to airdrop from iPhone to pc. FoneTool supports a wide range of iOS devices and provides a seamless and secure file transfer experience.
Features and advantages of FoneTool over AirDrop
✔ Cross-Platform Compatibility
Unlike AirDrop, which is limited to Apple devices, FoneTool works seamlessly on Windows computers, providing cross-platform compatibility for file transfer between iOS devices and Windows.
✔ No Internet Connection Required
FoneTool allows file transfer without the need for an active internet connection. This feature ensures fast and secure file transfers, even in offline environments.
✔ Wide Range of File Types
FoneTool supports the transfer of various file types, including photos, videos, music, contacts, messages, and more. It provides a comprehensive solution for transferring different types of data between iOS devices and Windows.
✔ One-Click Transfer
FoneTool simplifies the file transfer process with its one-click transfer feature. Users can easily select the desired files and initiate the transfer with a single click, streamlining the process and saving time.
✔ Secure and Reliable
FoneTool prioritizes the security and integrity of your data. All file transfers are encrypted, ensuring that your sensitive information remains protected during the transfer process.
Main transfer functions of FoneTool
Ensure you don't overlook the exceptional benefits of FoneTool. Immerse yourself in the convenience, security, and efficiency it provides as your indispensable iPhone transfer software. Take advantage of the opportunity to download FoneTool for free and embark on a journey of discovering a new realm of data management. Give it a try today and unlock a whole new level of seamless file transfer and organization.
1# iPhone to iPhone Transfer
The iPhone to iPhone transfer function ensures a seamless transition to a new iPhone without any loss of applications, data, or content. With just a single click, you can effortlessly transfer data to new iPhone. Here's how it works:
Connect both iPhones to your PC.
Launch FoneTool and select the iPhone to iPhone transfer option.
Initiate the transfer process.
By following these steps, you can smoothly transfer all your desired data and settings from one iPhone to another, simplifying the process and eliminating any worries about losing important information.
2# iPhone to PC/PC to iPhone Transfer
For selective file transfers between iPhones, from iPhone to PC, or vice versa, FoneTool offers the iPhone to PC and PC to iPhone transfer functions. Here's how you can utilize these features:
Connect your iPhone to your computer using a USB cable.
Launch FoneTool and choose either the iPhone to PC or PC to iPhone transfer function, depending on the direction of your transfer.
Select the specific files you wish to share or transfer.
With a simple click, the transfer process will be completed within seconds.
By following these steps, you can easily and quickly transfer your desired files between your iPhone and computer in a selective manner, providing you with greater control over your data management.
Summary
While AirDrop remains a popular choice for file transfer among Apple users, Windows users need a reliable alternative to enjoy similar seamless file-sharing capabilities. FoneTool emerges as the best alternative to AirDrop for Windows, offering cross-platform compatibility, extensive file transfer options, one-click transfers, and robust data management features.
With FoneTool, Windows users can enjoy a seamless file transfer experience between their iOS devices and Windows computers. Embrace FoneTool as your go-to AirDrop alternative for Windows and unlock the power of effortless file sharing.