Best 10 WordPress themes for marketing agencies
WordPress themes for marketing agencies are very useful to such businesses since they contribute heavily to the way a company is perceived by the clients.
In a niche where professionalism is the top priority and flashiness is limited, people expect seeing a firm that delivers everything straight to the point.
This applies to the way your business website looks as well.
As such, I wanted to look at themes that capture the essence of web professionalism. Today I'll talk about my top choices for WordPress themes for marketing agencies.
This is of course, just my perspective and some suggestions for those looking to renew our launch a marketing oriented website.
So, without further adieu, let's get into it.
Caliris (My favorite)
I would say that this theme is the best for a very simple reason – it's designed to look great no matter the size your business. Even if you are just a small firm starting out, you will look great as the main focus of this theme is the aspect of professional presentation.
Even those who are not that tech-savvy will appreciate this theme as it is very easy to customize it and build it the way you like it. This is done via a shortcode generator which helps to create functionality and call out things like tables or charts being shown on the webpage.
Also, the Cocobasic builder helps to glue everything together and modify sections of content to your liking.
In my opinion, this is the best theme because it looks great even when you don't have much to show for the clients. That means that even with minimal content available, your website will look neat and professional.
Kalium
Kalium really impressed with its quality and versatility, the two signature factors of this theme. Apart from high-res icons and visual elements there's plenty of options to make your website flexible and ready-to-go right from the start.
Moreover, your site becomes completely responsive with this theme, meaning that it automatically adapts to the platform that a visitor is using. This includes content and shopping platforms which are propelled with the WooCommerce plugin, an essential for any shop that's basing their business on a WordPress site.
Lastly, there's a neat blog platform which allows to you post interesting content to the public on the regular. Not only does it in increase your PR weight, quality content thorough posts can improve your search engine rankings (SEO) as well as the general count of visitors coming to the site. And as we all know more visitors equals more opportunities for business.
Anyway, I really liked Kalium because it doesn't over-complicate things, instead you get a simple shopping and blog platform as well as an aesthetic design that will surely please the public eye.
Oshine
Oshine's main advantage is its multi purposeness. Not only is it great for marketing agencies, I've a few examples where photography, art class and even IT specialists have pulled off a very well functioning website.
The trick here? Oshine is designed to let you control every part of the website individually. That means that webmasters have complete access and control over the elements of a site. With over 50 modules to help you with the design and style of it, there's plenty of opportunity to not only create a professional site, but a creatively good-looking one as well.
No coding knowledge necessary here as well. Just follow a few guidelines and your website ideas will become reality. Whether it's convenient functionality or a design that sticks, there's plenty of options to stand out from the crowd for your business.
This is the main point of Oshine that I enjoyed. It gives you all the tools you need, all that's left is for you to build with them.
Webify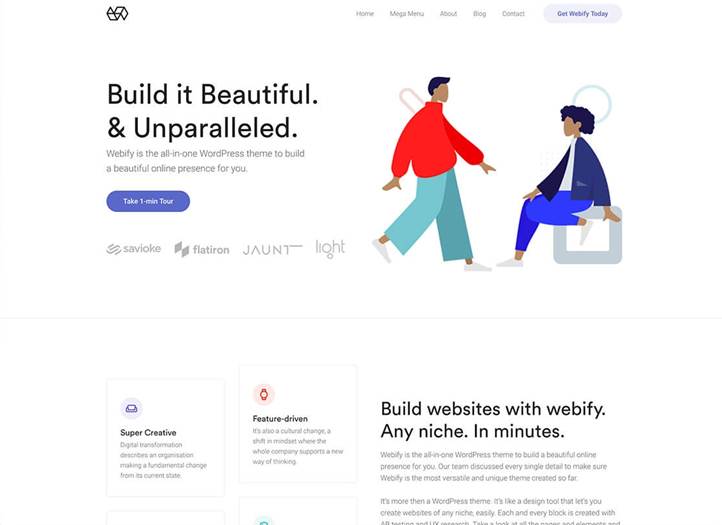 Webify is another provider that puts the element of presentation to the forefront. With it not only will you make your website more user-friendly, it'll make users' jaws drop as they'll see your portfolio. That particular section is especially well-done in this theme.
Of course if you want to customize other sections of the website, you'll get all the tools to do that as well. Adjusting them won't be difficult since each section of the theme does not require to have any significant developmental background.
Very useful additional features also include some SEO tools to help you optimize your site, ready-made website sections like footers, headers or menus or even an ability to live feed on Instagram.
Each of these functions can be called up with a shortcodes which makes implementation even easier.
So, if you're looking for some tight visuals to present your business with Webify is definitely a strong option to go.
Ekko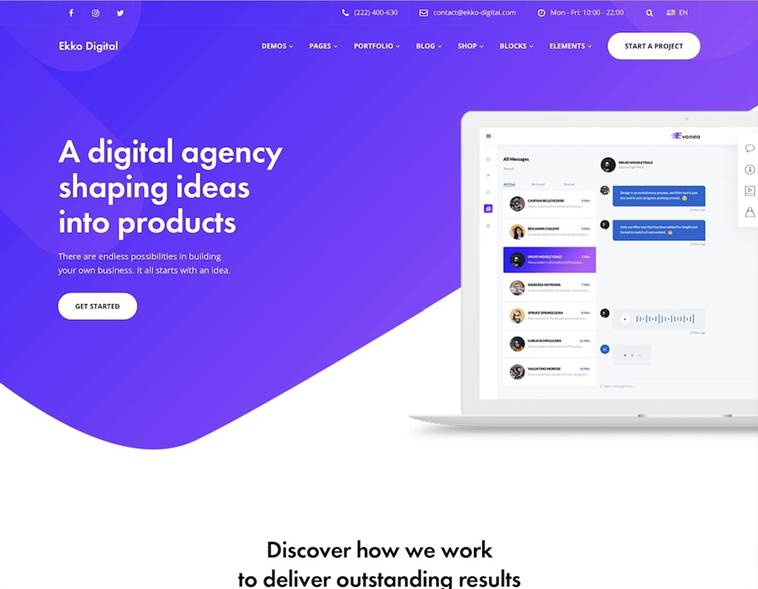 With Ekko, we get another theme that has multiple tools at its disposal right from the start, so you can craft your professional website with a few clicks of a button.
What makes it an ideal choice for a marketing agency is its clean designs, smooth transitions and animations available for the users. I think they're effective, but not too distracting, so they don't come across as over-the-top.
Elements like footer and headers, a sticky navigation option and over 250 pre-made templates, really separates Ekko from others by including a lot of extra stuff for their users.
This is another great go-to option for those who like a solid design, though with extra functionality and features.
Rogan
Roger separates itself from others with its ability to create unconventional, yet still effective designs for the users of this theme. The platform makes it very easy to create your own signature style using the theme's many visual tools and employ a conving looking website.
In terms of functionality, Rogan gives user the ability to use Elementor, a very simple drag-and-drop styled builder which even let's users with zero programming experience create amazing looking pages.
For this, there are useful premade headers, footers, tables and other types of elements. So, you won't get lost in the process of building your website.
I would highly recommend Rogan to those who are looking to have complete control over their designs and want to create a marketing site with a different edge.
Stash
Stash is easily the most versatile option for marketers looking to launch their website. First of all you get plenty of templates to use as demo/starting points.
In fact, 48 of them.
With a convenient Visual Editor implemented and clear guidelines you can follow, you'll have the ability to make a professional looking business website even if don't have any previous coding knowledge.
For marketing agencies that want to take their design to the next level there's plenty of creative elements that theme offers as well. This includes CSS animations, customizable backgrounds and multimedia pattern managements.
Last I want to mention the theme's great SEO-readiness as well. From adjustable meta information, great code optimization for the content elements and regular updates – you can perform a full optimization right from the start.
VIM
I choose VIM because I think they have one of the best design templates out there for users. With little work to be done on your side, you'll create a website that's both striking and convincing to users.
Businesses who do not want to be bothered with customization can choose from ready-made templates that not only look awesome but are mobile-ready and have top performance as well.
In our case, marketing agencies will probably look for an option that has a contrasting color palette, as seen in the example picture. I think so to, since simple-and-bold always does the trick.
Anyway VIM is a great starting point for creating a strong, yet unique backbone for your website. I strongly recommend the theme for it.
Holmes
I've chosen Holmes because it is very flexible not only in terms of giving you templates to work with, but giving you all the tools that you might need to customize it for your business specifically. The 16 templates offered are a great way to start off a design and adjusting it for your audience and business goals.
From there you can go absolutely "nuts".
Holmes with let you modify each section from the starting header to the finishing footer. Icons, tables, you name it. This theme has the capability to handle all of your ideas.
In terms of functionality, you get a standard builder with plenty of shortcodes to create various elements for your webpage.
To sum up Holmes, it's a versatile platform with plenty of design opportunities. However, I would argue that theme is best for those who really want to invest time by individualizing their website.
Cardea
Cardea is the best option on this list for those looking for a one-page portfolio type of site. If you just need a front ant that's it, then I would definitely recommend it. Of course, if this type of site works for you.
Both beginners and expert programmers will definitely appreciate the convenient website builder that's based on bootstrap and can generate awesome AJAX powered functionality on the spot.
Image sliders, tables, headers, footers and other good stuff are accessible at your fingertips with a few clicks of a button.
Cardea is great for wanting to make things stick, however to not over do them at the same time.
All in all,
In this article I've discussed my top 10 choices for WordPress themes for marketing agencies. Each one of them, I think, fit for different businesses and different situations so it's best to get test them out and see for yourself.
I'm sure different businesses will find what they like.