Best Android Apps for Women security That Every Women Must Know
Best Android Apps for Women security that every women must know-: The rape incident in New Delhi in the year 2012 shocked the whole nation. It's obvious that the government will put forward every possible measure to ensure women safety and security throughout the country. Apart from government commitment towards women's safety and security around the country, it is also necessary that every women should also educate herself about safety and security concern.  
Technology changed our life like never before and with the help of technology a women can secure herself from un-social element.
In this post i am going to explain some of the Android App which can be installed on all type of high end as well as low end smart phone from iOS to android and its feature so that a girl or women can install it according to her needs.
[wp_ad_camp_2]
The most important and best android apps for women are listed below.
1.

SOS Whistle

 

(For Android)
To Download From Google Play Store go here https://play.google.com/store/apps/details?id=jp.co.comp.android.whistle&hl=en
This app does not need any high-end GPS fitted device for its operation. All it needs is a simple Android platform operating system and a person willing to use it.
The operation of the app is as follows.
When you move into any unsecured zone, just Activate it on your phone. A red button will appear on the main screen of the phone. As Soon as it seems anyone is stalking you, just press the red panic button. A very loud The alarm will go on. This will, first of all, fear the stalker away and secondly, it will alert Anyone who listens to it. The point is that girls don't have a voice loud enough to shout loud and thus miscreants get an advantage in such situations. This app will prevent Anything such from happening.
2.

Life 360 Family Locator

:
To Download From Google Play Store
This is the best App to connect with your family member.Family Locator simplifies life in the digital world by making it easy to stay connected to the people who matter most especially your family member.
With Life360 you can:
• Create your own groups, called "Circles," of loved ones, friends, teammates — whoever matters most and chat with them in Family Locator for FREE.
• View the real-time location of Circle Members on a private family map that's only visible on Family Locator
• Receive real-time alerts when Circle Members arrive at or leave destinations (Eliminate disruptive "Where are you?" texts)
• Track stole phones or lost phones
• Enjoy a more diverse array of features and benefits than those found on similar apps
• Locate both Android Phones and iPhones with Family Locator
Family Locator Offers Real-Time Location Data
Plan your next family gathering with the family tracker and send multiple texts to learn everyone's estimated arrival time. Family tracker alerts you when family members have checked in at a location and thanks to GPS Tracking technology, the family tracker can also advise if someone is running late.
GPS Tracking of All Circle Members
For time-sensitive communication, Family Locator can quickly pinpoint the location of every family member. GPS Tracking for non-smartphone users is also possible, for a small monthly fee. This knowledge is quite handy for party planning: use GPS Tracking to make sure all guests have arrived before the guest of honor shows up! Family Locator also saves your most commonly visited locations and can provide directions to them quickly (thank you Family Locator!).
The best GPS Tracking App
This handy, easy-to-use app leverages the latest technology to help you stay connected in real time to the people (and the devices) that matter most. Life360's Family Locator GPS Tracking functions, features and benefits include:
GPS Tracking to find Friends and Family.
Life360 GPS tracking app uses GPS coordinates and state-of-the-art GPS location data to report the real-time whereabouts of your friends and family. Simply install the Life360 Family Locator app on your phone and your families' phones. Once registered, each member appears as a unique icon on the GPS tracking navigational map so you'll know exactly where each family members is, at all times. No need to send annoying "Where are your?" or "What's your ETA?" texts, the Life360 Family Locator puts this information at your fingertips. And to make life super easy, we send you GPS tracking alerts the moment your friends arrive at the appointed location!
Reliable Cell Phone Tracker
The Life360 family Locator is a very reliable Cell Phone Tracker. It can pinpoint the location of registered mobile devices, smartphones and even old school feature phones via the app's website, 24/7. Our GPS Phone Tracker lets you locate Android Phones and iPhones. It's easy to use. All you have to do is invite your family members or friends and you can start tracking them on your Phone to track any cell phone.
3. Circle of 6:
To Download From Apple Store go to itunes
This is an award winning app, but currently it is available for only iPhone user.Circle of 6 is a personal safety app for everyone women. Winner of the 2011 White House and HHS "Apps Against Abuse" Technology Challenge and Winner of Avon Foundation for Women/Institute of Medicine "Ending Violence @Home"
Using this app you can create a circle of 6 friends you usually hang out with. Since you hang out with these people, you trust them enough to tell them where you go. Now whenever you leave home alone, you Can just post any information regarding the same via this app. Thus you will be sure that someone is waiting for you and will be able to take action in case you go missing.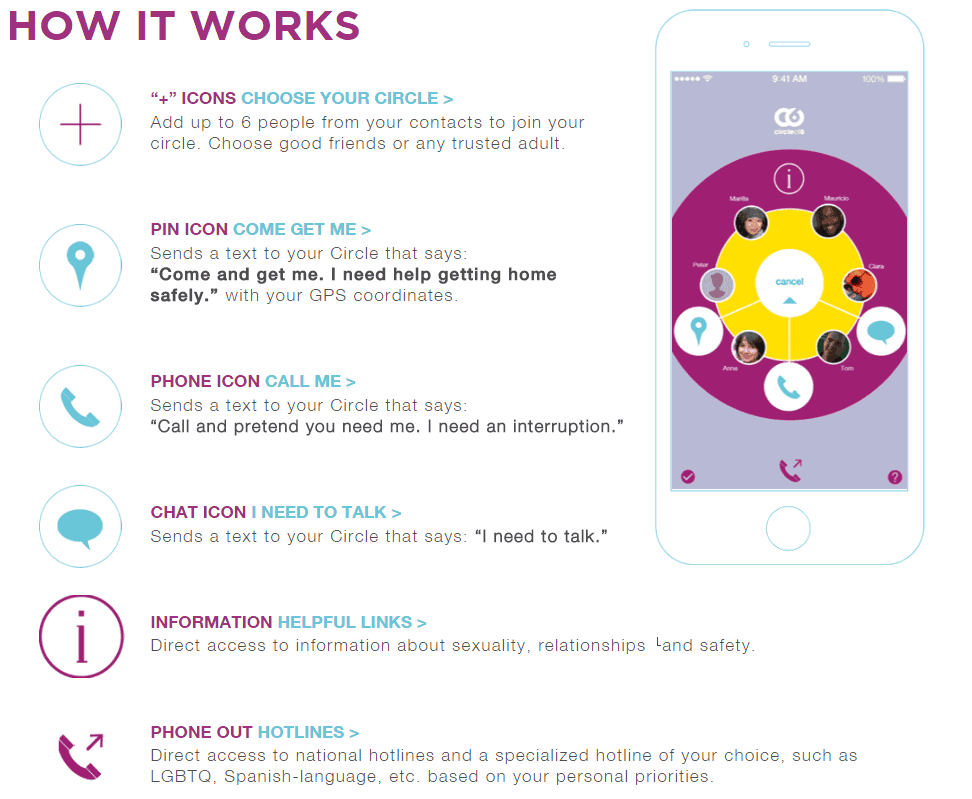 This app is custom made for young school girls who are dependent on their parents. The app needs a GPS fitted phone. Now whenever the girl goes out with her phone, the app will send a message of her exact location at her Parent's cell. They will get an alert when she reaches school safely and will further get an alert when she leaves school to come back. Anyhow, be careful to note that it will seriously take on your freedom and privacy.
[wp_ad_camp_1]
Conclusion-:there are so many apps available online for the safety and security of women , In this post i have tried to figure out  best android apps for Women's safety and security. Even though safety and security of women is a social responsibility and Laws of Government in any country.