Awesome Dictionary Extension for Google Chrome Web Browser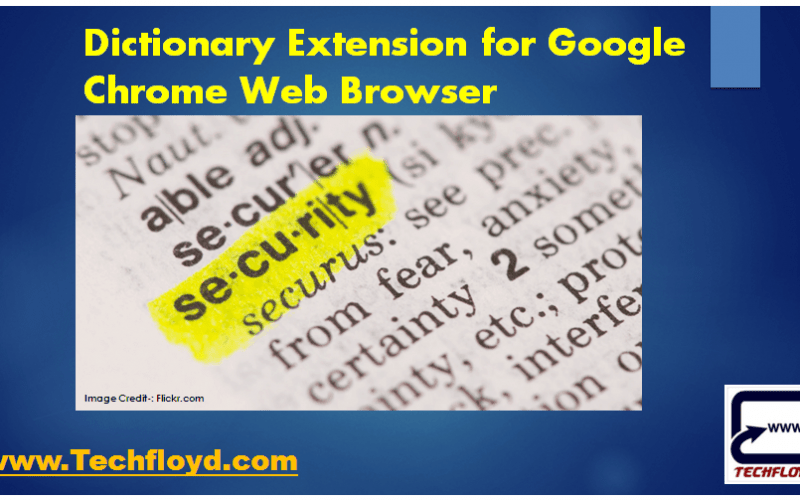 The Best Dictionary Extension for Google Chrome Web Browser-: While Reading anything offline or online either we use Google Translate to see the translation in our own mother tongue or online Dictionary. To maximize our reading experience in this post I am going to explain some of the best dictionary browser extension.
The Best Dictionary Extension for Google Chrome Web Browser-:
It is Most popular extension over the web with 4,164,911 active user at the writing this post and overall 4.5 rating out of 5. Just head over to Google Chrome Webstore and Install, to find any word meaning you can type the word and find its meaning. As shown in below image.
 Google Dictionary comes with lots many customizations you can get meaning of any word by selecting and double-clicking on any word by enabling an option in Google Dictionary.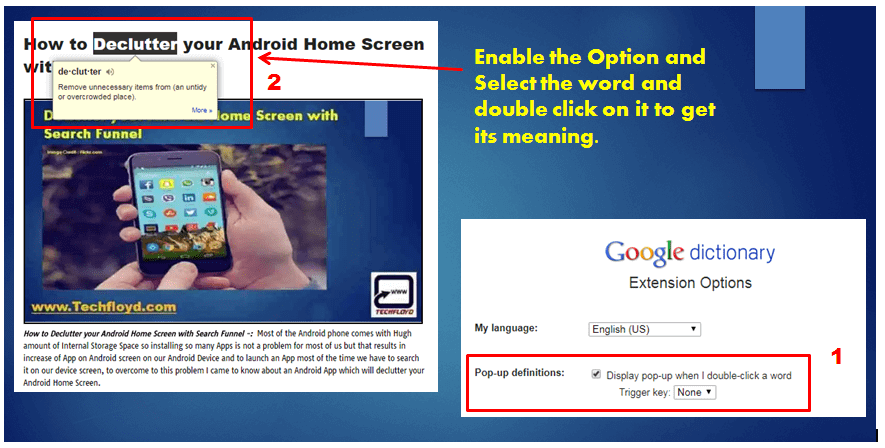 If you not comfortable with double click option you can use another option Display pop-up when you select a word or phrase with a trigger key, you can choose trigger key as per your choice.
Google Dictionary is an Awesome tool for Reader to get the meaning of the word right into the browser Google Dictionary support a wide range of Languages which you can select from the drop-down menu. As a Hindi Speaking Person, I checked it with my Mother Tongue Hindi and it works absolutely fine.
Supported dictionaries in Language are as Follow:
 – Arabic – Brazilian Portuguese– Chinese (Simplified)– Chinese (Traditional) – Czech– Dutch– English (UK) – English (US) – French – German– Hindi – Italian– Japanese – Korean– Russian – Slovak– Spanish– Turkish
Google Dictionary also store the words which you look if an option is enabled which you can export in MS Excel Format so that you can recall or remember those word again.
Dictionary Lookup is another good Chrome extension to quickly look up the meaning of any word and phrase in a clean and inline inbox powered by Dictionary. its method of use is somewhat similar to Google Dictionary but it comes with some good customization which you can see at the setting page and modify according to your need.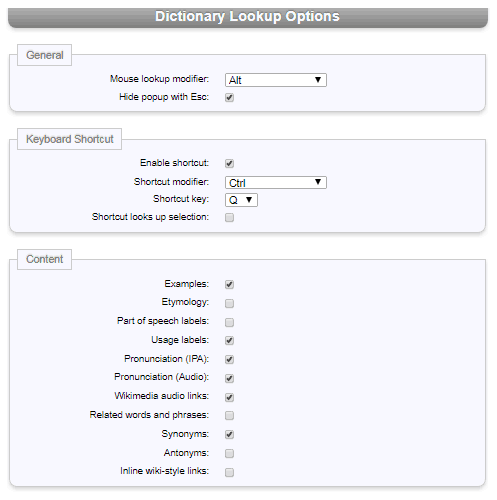 Conclusions: In this post, I have tried to figure out useful Google Chrome Extension for translation..if you know any other useful Google Chrome extension for the dictionary a, you can comment on comment section of this post.