Best Note-Taking Apps to Enhance your Productivity in Daily Life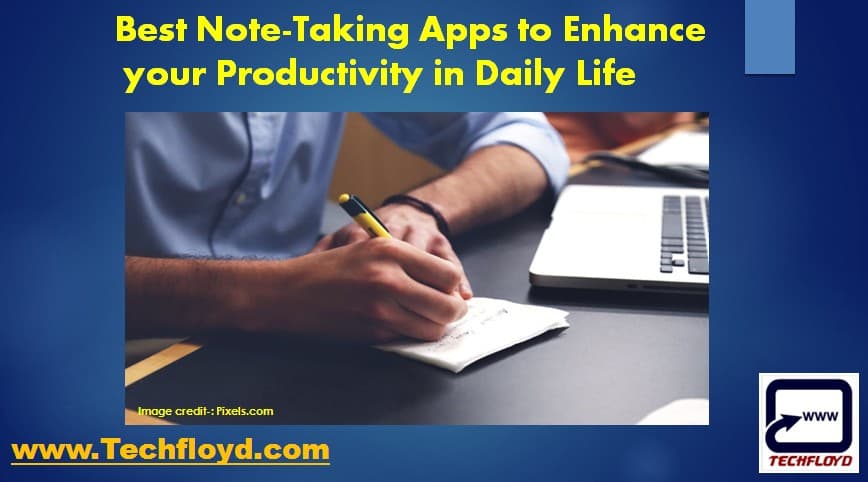 Best Note-Taking Apps to Enhance your Productivity in Daily Life-: Apps Helps us to perform more task in less span of time. there are lots of productivity Apps available over the internet. while working or surfing internet we find something interesting and informative we save it using a various method of taking a screenshot, saving it into PDF etc here note-taking apps are very useful. there are so many notes taking apps are available over the internet but in this post, I am going to list best Note-taking Apps to enhance your productivity in daily life.
Best Note-Taking Apps to Enhance your Productivity in Daily Life-:
Evernote-:
Evernote is the best-known note taking app. Evernote is a cross-platform app designed for note taking, organizing, and archiving. It is developed by the Evernote Corporation.
The app allows users to create a "note" which can be a piece of formatted text, a full webpage or webpage excerpt, a photograph, a voice memo, or a handwritten "ink" note. Notes can also have file attachments. Notebooks can be added to a stack while notes can be sorted into a notebook, tagged, annotated, edited, given comments, searched, and exported as part of a notebook. Evernote offers freemium plan Use of the online service is free up to a certain monthly usage limit, with additional monthly use reserved for Plus subscribers, and unlimited monthly use for Premium customers.
Apple Notes-:
To use Apple notes you must have to a customer of Apple Inc best part of Apple Notes is it works on Handoff feature of Apple which mean Each device is signed in to iCloud with the same Apple ID. Apple Notes is updated over the years to add tools for formatting and drawing and it even allows to insert a picture from the web or your photo gallery into your notes.

Google Keep-:
As Name suggests Google Keep is a note-taking service developed by Google. Launched on March 20, 2013, Google Keep is available on the web and has mobile apps for the Android and iOS mobile operating systems. Keep offers a variety of tools for taking notes, including text, lists, images, and audio. Users can set reminders, which are integrated with Google Now.
Text from images can be extracted using optical character recognition, and voice recordings can be transcribed. The interface allows for a single-column view or a multi-column view. Notes can be colour-coded, and labels can be applied to an organization. Later updates have added functionality to pin notes and to collaborate on notes with other Keep users in real-time. one of the Awesome features of Google Keep is it comes with integration with Google Calendar so if you take any note about future meeting agenda you can directly add it to Google Calendar.
Conclusions: We can get Awesome ideas at any time and with the help of Note taking apps we can note down those ideas and further work on it to make it possible. In this post, I tried to figure out best note taking Apps, if you have any other awesome note taking apps you can mention in the comment section of this post.
I hope you like my Post , If you like it  do me a favour by sharing it with your friends. You may consider to  Subscribe Techfloyd Newsletter for latest technical tips directly to your E-mail Inbox. You can also follow Techfloyd on Facebook, Google+  and Twitter.