Crello: Easy-to-Use Design Tool for Creating Stunning Visuals-: In Today's Information Technology era We all knows the importance of Social Media. None of the business or brands can get success without the help of Social Media. Social Media Helps Brands or business directly connect with the customer and easy to know what customer feel about a Brand or Business.
If you are a Social Media Marketer then you must create Awesome Social Media Images to grow your business or Brand because Image speaks more than words. If you have no idea of Standard Image sizes across the different social network you can read post Social Media Image Sizes Cheat Sheet. In this Post, we will learn how to create Awesome Images for Social Media and Web-Based Graphics using a Web-Based Tool Known as Crello.
Create Awesome Images for Social Media and Web-Based Graphics using Crello-:
To start the Web-based graphic design just head over to Crello, Sign up with Facebook, Google Account or Create new account. Once you created your account, Go to create a project and create a New Design, Here you can select the type of Social Media Graphics you want to create.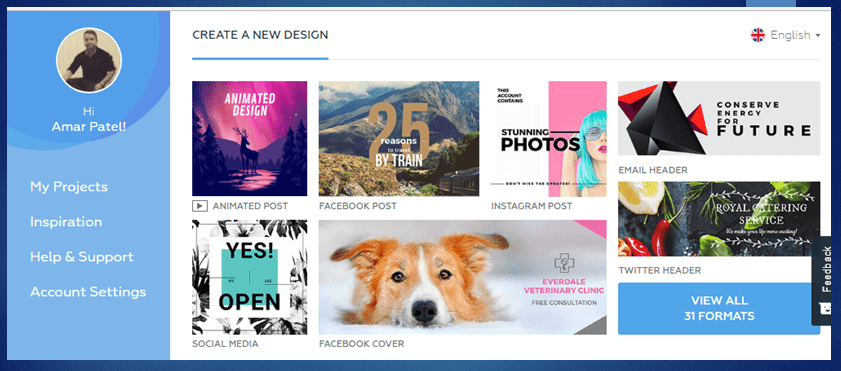 Apart from standard sizes for social media graphics, Crello also allows creating the Non-standard size of media graphics just set your desired dimension and start creating stunning graphics.

creating the social media graphics is so easy with crello due to its simple user interface and to get royalty free images right from the user interface as per category of your social media graphics.
All the Design you create will be saved under your project which you can modify, edit anytime and anywhere.
Conclusions-:: If you are running a Brand over the internet or your business then imagination of getting success without Social Media seems to be impossible. Crello is a very smart and simple social media Image creation tool that everybody can use without any obstacle. 
If you liked this article, then please subscribe to our Newsletter to get latest updates directly to your mailbox. You can also find us on Twitter , Facebook and Google Plus.