How to Avoid your Gmail Account Get suspended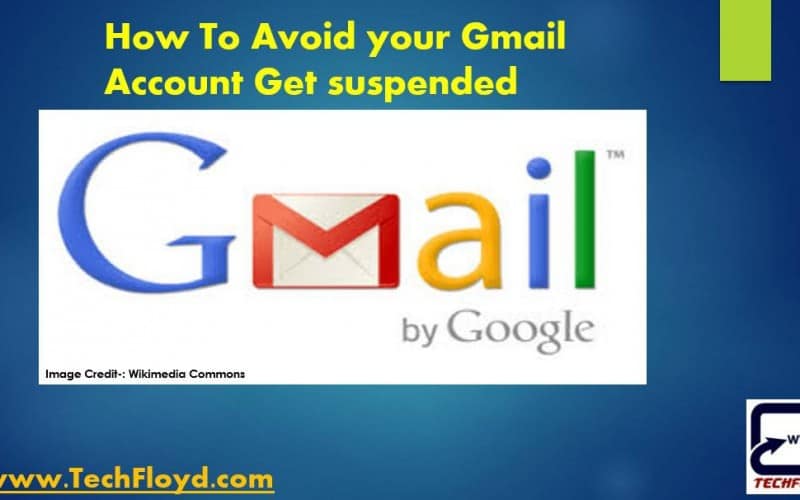 2023 update
To avoid your Gmail account from being suspended, here are some tips to follow:
Do not violate Google's terms of service: Make sure you are familiar with Google's terms of service and do not engage in activities that violate them, such as spamming, impersonating others, or using the service for illegal activities.
Use a strong password: Use a strong and unique password for your Gmail account and do not share it with anyone. Avoid using the same password for multiple accounts.
Keep your account information up to date: Make sure your recovery email address and phone number are up to date in case you need to recover your account.
Don't send too many emails in a short period of time: Sending too many emails in a short period of time can trigger spam filters and lead to your account being suspended.
Be cautious with attachments: Do not attach files that contain viruses, malware, or other harmful software.
Avoid clicking on suspicious links: Be cautious when clicking on links in emails, especially if they are from unknown senders. These links could lead to phishing sites or malware.
Don't use unauthorized third-party apps: Only use authorized third-party apps that are compatible with Gmail to avoid any issues that could lead to account suspension.
How To Avoid your Gmail Account Get suspended
Gmail is the one of the best e-mail service provided by Google. it got popular within a short span of time as compared to Yahoo! because of its extraordinary service and quality, some of the best quality of Gmail is faster file attachment, less spam and integration with third-party software using IMAP and POP. If you do not follow the Rules set by Google to use Gmail Your Gmail account get suspended and that will put you in trouble.
Follow the following Steps To Avoid your Gmail Account Get suspend
Gmail providing 25 MB file attachment limit. Gmail having a daily limit on sending mail if you cross that limit might be your account get suspended. for more information rad program policies. limit for sending e-mail per day is 500 if cross that limits you will get the error " 550 5.4.5 Daily sending quota exceeded". If you want to s the nd larger file with Gmail, Upload your file to Google Drive and generate its link and insert that link to your mail for more info read my post How to Send Larger File With Gmail.
Limit type
Limit
Messages per day
Daily sending limit*
2,000 (500 for trial accounts)
Messages auto-forwarded
Messages automatically forwarded from another account, not included in the daily sending limit
10,000
Auto-forward mail filters
Account filters that automatically forward mail
20
Recipients per message
Addresses in the To, Cc, and Bcc fields of a single email*
2,000 (500 external)
Recipients per message sent via SMTP (by POP or IMAP users) or the Gmail API
Addresses in the To, Cc, and Bcc fields of a single email. Includes email sent using smtp-relay.gmail.com or smtp.gmail.com*
100
Total recipients per day
Individual addresses count in every mail sent; 5 emails sent to 10 addresses count as 50 recipients*
10,000
External recipients per day
Email addresses outside your primary domain, including domain aliases and alternate domains
3,000
Unique recipients per day
Individual addresses count once a day; 5 emails sent to 10 addresses count as 10 unique recipients*
3,000 (2,000 external, 500 externals for trial accounts)
If you are sending a single mail to the large recipient, many e-mail address of your recipient have broken then it may lead you to get your account suspended. so check e-mail address of your recipient before hit send.
Always check your Gmail account once in 9 months to prevent your Gmail account to get suspended.
There is also a limit for mail recipients. For example, to how many recipients you can send a single message. If you try to exceed the limit your account may get suspended. Sometimes account temporary disable if you send single message to above 100 recipients at a single time,
Free Great Email Templates to Enhance Your Gmail Experience
Send SMS Remainder of urgent E-mails to any mobile from your Gmail
Note: you should use the Google apps or Google groups to send a single message to a number of users.
Always be sure the recipient's email address is correct. This also a big region to account gets suspended due to send too many undeliverable messages.
This is advisable to avoid sending spam messages. Do not send junk email, chain mail, unsolicited emails or do not send mail to unknown recipients. If someone complains you, then there may be chances that Google suspends your account.
Always try to fix your message sizes and watch for storage capacity.  Personal Gmail account has 15GB of free storage or 300GB for work accounts. Email attachments files cannot exceed 25MB.
Using the above steps Google account user can avoid to get Gmail account suspended. In any cause you face Gmail account suspense error multiple times, then you should look at the third-party team to fix these issues instantly. Call at Gmail customer care phone Number @ 1-800-815-9383. For G Suite.
Conclusion
Taking precaution is always better that cure , so follow above method to avoid your gmail account get suspended , Also take back up of your data store with Google Account on time to time basis.