How to Send Larger File With Gmail
How to Send Larger File With Gmail
Gmail has a file attachment limit of 25 MB, which can be a problem if you need to send larger files.
Today millions of people have started using Drive to keep, create and share files. Starting today, it's even easier to share with others: you can insert files from Drive directly into an email without leaving your Gmail.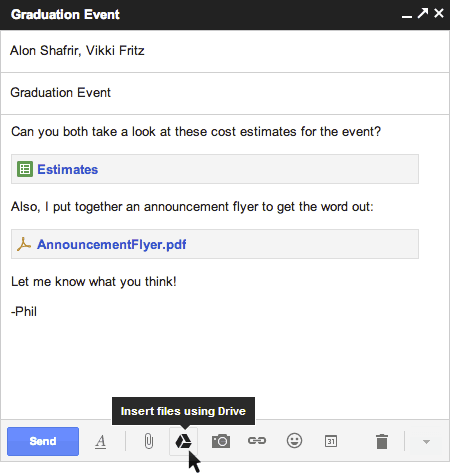 Have you ever tried to attach a file to an email only to find out it's too large to send?
Now with Drive, you can insert files up to 10GB — 400 times larger than what you can send as a traditional attachment. Also, because you're sending a file stored in the cloud, all your recipients will have access to the same, most-up-to-date version. Like a smart assistant, Gmail will also double-check that your recipients all have access to any files you're sending.
This works like Gmail's forgotten attachment detector: whenever you send a file from Drive that isn't shared with everyone, you'll be prompted with the option to change the file's sharing settings without leaving your email. It'll even work with Drive links pasted directly into emails.
So whether it's photos from your recent camping trip, video footage from your brother's wedding, or a presentation to your boss, all your stuff is easy to find and easy to share with Drive and Gmail. To get started, just click on the Drive icon while you're composing a message.
Alternative method to Send Larger Files
There are several ways to send larger files with Gmail:
Use Google Drive: Google Drive is a cloud storage service that is integrated with Gmail. You can upload your larger files to Google Drive and then send a link to the file in your email. To do this, click on the "Insert files using Drive" icon in the bottom toolbar of your compose window. Select the file(s) you want to attach and click "Insert". The file will be attached as a link in your email.
Use a File Transfer Service: There are several file transfer services, such as WeTransfer or Dropbox, that allow you to upload and share large files. You can upload your file to one of these services and then include a download link in your email.
Compress Your File: If you have a file that is just slightly over the 25 MB limit, you can try compressing it into a ZIP file. This can reduce the file size and make it easier to send as an attachment. To do this, right-click on the file and select "Compress" or "Send to -> Compressed (zipped) folder". Once the file is compressed, you can attach it to your email as usual.
While these methods can help you send larger files with Gmail, it's still recommended to use discretion when sending large attachments. Large files can take up a lot of space in the recipient's inbox and can also cause issues with email servers. It's best to check with the recipient before sending a large file and use a file transfer service or Google Drive whenever possible
Conclusion
Gmail comes with attachment limit but sending larger file with cloud storage services like Google Drive or Dropbox is a smart idea to send big file through mail.