10 best WordPress themes for SPA businesses. My top choices for 2020.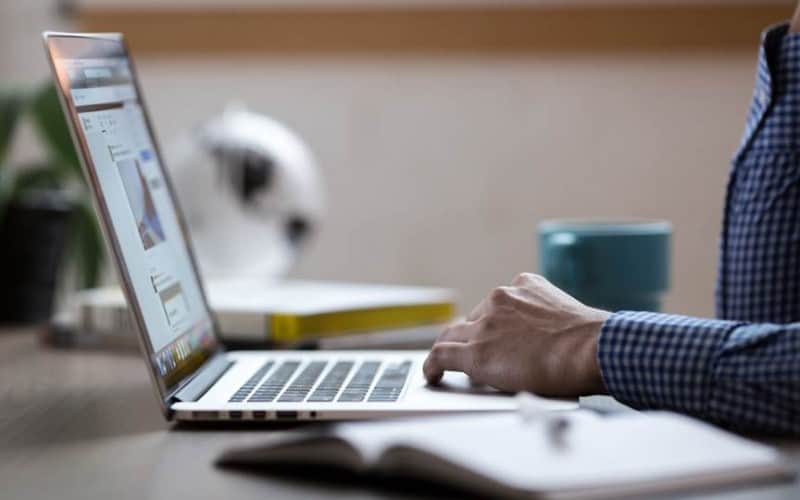 WordPress themes for SPA businesses help you form a proper image, or a "first impression" for a visitor that's looking for a place to relax.
Especially if he's seeing it for the first time, to main a look of professionalism should be a top concern for any online business out there no matter the niche.
Today I want to look at my top 10 choices for SPA business WordPress themes.
Considering that it's a niche of aesthetics, beauty and coziness, that's exactly what I looked for when forming this list.
Keep in mind that these themes are just suggestions, however, those surely worth considering for business owners that want to renew or create their unique SPA business website.
1. TheGem – my top choice for WordPress themes for SPA businesses
TheGem is an amazing choice for your WordPress themes since its easy-to-customize, flexible and well polished for a modern website build. With over 40 demo templates ready to be launched within seconds, creating a website for any kind of purpose, or niche will not be difficult.
The VisualComposer (a customization tool) will help you modify individual elements of a template, the way you prefer be it text boxes, images, menus and so on. With all the tools you need at your disposal, a few clicks of a button is all it takes to create content and a fully functional website for your SPA saloon.
I choose this theme as my No.1 since they already have a few demos designed specifically for fitness centers and similar relaxation business, which you can test out and use it as a basis for your website. Additional plugins like WooCommerce help setup your online shop it to the next level.
2. LeadEngine – all about multi-functionality
This pink template is one of many that are available within the multi-functional environment of LeadEngine. Putting an effective site together has never been easier. With more than 30 pre-built demos and 200 content blocks at your disposal, you can design a website no matter your programming skill level.
In my opinion, the main strengths of LeadEngine are its variety of plugins, great performance and universality. Add-ons like the Visual Builder, WooCommerce and other blog-oriented enhancements are oriented towards making your SPA business site looking legit and attractive.
What's more it works great even if you attached a number of plugins and modify it completely to your liking. That's the power of basing your site on LeadEngine.
3. Webify – great for customizing Wordpress themes for SPA businesses
Webify's key to success is it's simplicity which translates both to the way it performs and the way it looks visually to the user. However, it still retains it's versatility if you want to build something more complex down the road.
Anyway, with a simple dragging and dropping technique you'll customize and individualize your website the way you like it to look for your customers, all without the need to know any programming knowledge to do.
Despite is ease-of-use, I do think that Webify can even help you build even more complex stuff with plenty of modules, text blocks, styles for the footer and custom shortcodes which are already available at your disposal from the start.
I think with a SPA and relaxation business you have to focus on developing a simple and effective shopping system, as well as have other key information or offers laid down from the beginning.
4. Ekko – design opportunities are infinite
What separates Ekko from other Wordpress themes for SPA businesses is it's focus on a beautiful design. Templates and demos are already available for general purpose sites, as well as, niche projects. One of those is of course the SPA website build.
With some tweaking and a little time, you can layout the basis for the website of your liking. This way your brand services will be at the forefront as soon as you launch your website live.
Additional plugins and blocks like pricing plans, call-to-action boxes or Google Maps integrations are just a few simple features that are already built-in within Ekko. Basically, whatever you can build whatever you please
5. Oaza – another choice for beauty lovers
Oaza is another theme with pays its biggest attention to detail to beauty, aesthetics and presentation. No matter if you're launching a new site or just reimagining what your business can look after an update, definitely consider WordPress theme Oaza.
Just like with others on this, no programming knowledge will be necessary for building your SPA resort website. Don't be hesitant and instead dare to be creative. While it looks neat by default, a customized Oaza will not only retain its beauty, but will help you build your unique image online.
Lastly, the features and functions presented here enable you to enhance not only your visuals but functionality as well. I think WooCommerce is the essential here, then the useful content boxes and even smooth animations help out as well.
6. BeautyPress – priority for customization, security and updates
BeautyPress is a WordPress theme that I've included on this, because of its many customization options that are available. Also a great feature is that it constantly receives updates, which means better performance and more security down the road.
Why is it good for a SPA saloon?
Well, they already have a great light-pink-theme template at your disposal when you start customizing it for yourself, as seen in the picture above.
This theme comes with many options for menu, footer, header and content block personalization. With all of this, you can build a site that's not only great looking but has amazing functionality for the user.
By adding a few plugins like WooCommerce, different payment support, you can even improve its functionality significantly.
7. Kendall – one of the most aesthetic WordPress themes for SPA businesses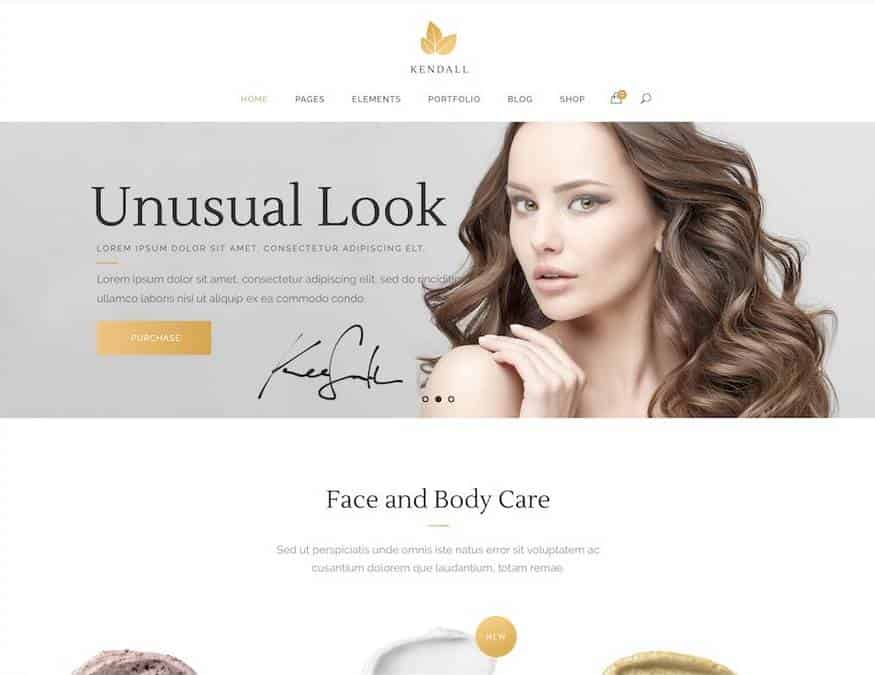 One of the WordPress themes for SPA businesses that can significantly boost your web presence with its astounding beauty is Kendall. Its SPA-themed template will help you to not only form a positive image of your business in terms of functionality, but boost its presentation aspect as well.
By that I mean that you can choose from several ready-to-go templates for you. Doesn't mean you have to choose this SPA one specifically, you can always differentiate yourself by tweaking another one to your liking.
Without the need for any developmental background you can build a platform that has great presentation functionality for your business site to utilize.
8. Pearl – professionalism is key to success
Pearl in my opinion is for those who want to look as professional as possible for their website. The theme calls itself simply "multi-niche", and without a reason. Its templates are great for developing website that look and work professional.
Their beauty salon template is one of those who employ their signature flexiblity, user-friendliness and vast color schemes available for creators. Along with that you get useful content boxes and over 800 Google Fonts at your disposal to create a visual masterpiece for your liking.
Lastly, I want to mention the performance side of this theme. This is one of the few on this that's already SEO-friendly, meaning you can employ your content as soon as you launch your website live. Additionally, the usual plugins like WooCommerce or website builder help to develop the type of functionality that you prefer on your site.
9. Paradise – you can't get more simple than this
Paradise really stays true to its name as its one of those Wordpress themes for SPA businesses where building is quite a breeze no matter your experience level in web development. I would argue that it's the most beauty-salon focused theme from this list, that's built to be ready from the get go.
Moveable sidebars, many layout options, headers and footers are just some of the most popular tools that users use to develop the site of their dreams. Additionally, the shortcodes will allow you to enhance the functional side of the website even more.
The builder that handles all the stuff from the theme? None other than the Visual Composer which I've mentioned a number of times on this list already. With it, you can customize and finish off your 100% functional website.
10. Leisure – astounding beauty and functionality
Leisure, at least to my eyes, seems like a theme that's developed to look like success. I've seen some website use it as a backdrop for hotels, apartment rentals, golf clubs, recreational centers and of course SPA centers.
Not only can you display beautiful visuals for site visitors, you can take advantage of their vast functionality and compatibility options. The theme is designed in a way that you can adjust it for the specific browser of the user.
It's no secret that this theme is considered one of the best out there as their developers have made other widely-used themes as well.
Anyway, Leisure is great for balanced functionality and extremely good visuals.
All in all,
I've talked about my top 10 choices for WordPress themes for SPA businesses. In my opinion, each of the themes on this list are great in their own right, so it's best to test them out yourself to find what you like the most.