The best free website builders out there – Tools that'll get you started!
Nowadays a website is practically mandatory for any business – more and more people buy and look for information online, so free website builders can become brilliant tools to market yourself, build a reputable website and make sales of course.
In this article, I want to talk about free website builders – tools that can help get you up and running online, without the need to invest in site development or have extensive programming knowledge.
While there are many builders and providers, I think that my picks can get the most important things for a rookie website creator – easy management and customization, great templates and neat extra accessories.
And, like I always say, this is just my opinion about the provider that I've tried out. So, without further further adieu, here are my 5 best free website builders.
After you build your first website, you can look for things like a free hosting trial for your website and so on.
Wix – an industry giant and not without reason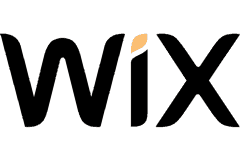 In my opinion, one of the best free website builders is without a doubt – Wix. They're the most dominant force in the builder business and not without a reason.
The platform is amazing from the moment you start – an easy builder, lots of templates to fit different tastes and purposes with well-rounded features.
And the best part – it all comes with a free plan that you can enjoy. Though there are some limitations, it's more than enough to get a jump start for your first business site.
Wix free plan features
Flexibility – the websites can easily be made for both desktop and mobile platforms.
Free domain – it goes as in username.wixsite.com/siteaddress
Storage – up to 500MB
Bandwidth – up to 500MB
24/7 customer support – a fair and very well responding help system for clients.
It's worth mentioning that even though there aren't many restrictions, they're still noticeable. For example, some owners might be discouraged from going with a free Wix plan due to sticky ads which are present on the desktop version of the website. This means that they follow a user as he's scrolling down the page.
A good thing is that the ads are closable on mobile. Since most users nowadays browse using a phone or tablet, you can rest assured that the ads won't tick off the majority of potential clients.
Another thing which might bother some site owners is the domain name. While the cheapest premium plan get you to customize your own URL, with the free one you'll be stuck with the formula of (yourusername.wixsite.com/yoursite)
Later on as you grow your site, you'll be able to afford a premium plan to get both of these flaws removed. Other than that their free plan include most things that owners will need for their free website. With premium plans – also you can be sure to get website speed up.
Webnode – Great editor though with some restrictions
Just recently the platform was completely updated, even almost unrecognizably so. New, modern and stylish themes for backdrops, responsive functionality, a neat and convenient editor, you name it.
With Webnode's free plan you'll get a site that's as basic as it gets – a theme of your choice, and a content builder with easy customization options.
In my opinion, this builder is best for those who indeed to have blogs, basic shops, or maybe a donation-type website. Nothing to complicated in other words, something that will give a basic presentation of your business to visitors.
Webnode free plan features
Good for SEO – SEO settings are fully customizable and editable even for the free builder version.
100 MB storage – though limited, for a site not dependant too much on media, it's more than enough.
1 GB bandwidth – in terms of bandwidth, there's enough for a pretty decent traffic surge.
Full access to the builder – all parts of your site are fully customizable with the free version.
As you can see – you don't get much but that definitely should be enough for you to start off your business website.
There are, however, some flaws that are worth mentioning. First of all it's, again, the limited domain name. The URL you will get a formula like this: customname.webnode.com.
Next, if you choose a theme – that's it. A free plan offers only one theme per website. So be careful with what you choose since you'll be stuck with it for a while with your site!
Lackluster support system. I don't want to say it's completely bad, but it's limited to say the least. If you decide to try a trial for a premium version later on, or but a plan for 3.95$ per month will get you much needed features of better support and better ecommerce options for your site.
Weebly – A free website builder with some downsides
Weebly is one of the most experienced companies when it comes to providing site builders for businesses. As such, they have one of the best platforms out there.
Their free plan is a decent product which offers basic optimization, storage and customization options for its users.
However, I do think that their paid plans are significantly better, which makes their "free plan" appeal to me less than those mentioned before.
Just like others – Weebly is good for a simple blog platform or small online shop start off of.
Weebly free plan features
Optimization for Search Engines – things like meta information, keywords, etc. are fully customizable in Weebly's free builder as well.
500 MB storage – a standard storage space for 0,5GB is given to the users for file storage. Yet again, though limited, it's more than enough for starter's website that doesn't need much.
Decent builder – though it has some limitations, the free version builder allows you to customize your website enough in order to create a site that you want.
Like I mentioned, Weebly's free builder version is decent, though there are restrictions. The main flaw of the builder is the lack of e-commerce options for free users.
Let's take a look at what their most expensive – premium plan (20$/mo.) – has to offer in terms of building a true e-commerce heavyweight.
This includes functionality like:
A Shopping cart
Ability to accept payments from various parties
An automatic tax calculator
An inventory management system
A coupon system
And so on.
This is great if you like the Weebly platform and plan to expand your site with them even further. Still, it is what it is and in terms of a free version – functionality is limited.
Other minor downsides would be the domain just like with other builders. The formula will go like this -> yoursite.weebly.com
Lastly, I think the amount of ads in the footers might be distracting to some users. Removing that would improve Weebly's free version in my eyes even more.
Ucraft – one of the best free website builders for commerce
Ucraft is different from the rest of the bunch since their are friendlier than others in some marketing aspects.
Apart from your standard things like decent storage space and bandwidth, you also get additional tools to improve your site's commercial potential.
That's what makes Ucraft special in my opinion: modern-looking templates, analytic marketing tools and more security is what this builder can offer for it offers.
Ucraft free plan features
Domain migration – the sole provider on this list that provides the ability to connect your domain to their platform for free. While other platforms allow this as well, for most it's a premium feature.
SSL certificate – extra security is always needed on the internet, a standard SSL is included on your website.
Google Analytics – a support for analytics allows to keep track of your user behavior.
I think it would be fair to call Ucraft a more detailed builder than others on here as it allows you to modify even the smallest details such as the font, colors of different elements, spacing and so on.
Still, the most impressive things to me at least, relate to marketing, security and domain migration capabilities. Since most providers look at them as premium features I enjoyed utilizing the using my free website.
The main flaws in my opinion also relate to restrictions. See, their premium plans offer an even more detailed set of analytical tools as well functions that you can include in your e-shop.
This includes:
Coupon systems
Tax calculators
Product filtering
Invoice editing
And so on.
Again, I'm not dismissing Ucraft, I just feel like you need something to more to make your business site complete. Still, it's decent, all-around option. Their premium option (39$/mo.), however covers far more ground in data management, commerce and other advanced aspects.
Jimdo – a nice package that allows mobile editing as well

The reason why Jimdo is this low is because of their restrictions on their free plan simple. I mean, I like the platform and their builder is pretty convenient, however their premium plans are much more developed.
Jimdo is unique because it allows you to customize your website for mobiles to make it compatible and responsive right on the spot and gives you guidance on how to build an effective website with their tutorial system.
Jimdo free plan features
500MB web storage space – the standard amount of storage that you get with most providers
2GB bandwidth – a respectable amount of bandwidth that's more than enough for a small to medium business website.
SSL certificate – a security protocol for extra safety on the internet
Mobile optimizer – an editor which allows to preview and design your website in order to make it compatible for tablets and smartphones. A great for those who aim for a mobile-based audience.
"Jimdo dolphin" – a tutorial platform which guides new user throughout the Jimdo platform and helps create your very first website. Most providers don't have this, so this puts them at an advantage.
Like I said, the free version of Jimdo certainly has its advantages, which makes it a great website builder provider, however, their premium plans outshine what their paid one can get.
For example, in comparison to other providers on the list their support system is very dissapointing to say the least as they prioritize those with a paid one. The more expensive your plan is, they faster response you'll get. Let's be honest, every client should be treated equally. This is one flaw I can't overlook and must emphasize.
Lastly, I have to mention ecommerce and SEO help aspects. While others on this list have some sort of optimization for search engines system or ecommerce solutions, Jimdo can't offer much in this regard.
Nevertheless, I would pick Jimdo for a blog-type site that is more focused on readers rather than building a shop of some sorts.
All in all
I've discussed what I think are the 5 best free website builders currently available. Each of them is a bit different from each other, but have something they can offer for website owners, depending on what you're focused on.