How To Remove Your Mobile No. From True Caller
I thanks to Truecaller for notifying me several SPAM call throughout the day but nowadays it is a great tool for spammers to find our personal details by just entering your mobile No. in Truecaller database.
Due to crucial times, few people may undergo for depression, because of certain prank phone calls. But, solution lies now-True caller is such an app that provides complete information about any contact number within few seconds. This app works on all smart phones and suits for any operating system such as android, etc. It is also found that, the app is absolutely free of cost for many OS platforms and gives information about all the global contact numbers. There are also certain persons who do want their name to appear in True caller directory or let others to view their info, due to certain security or personal issue. For such person, Truecaller has the best solution to remove or delete their contact numbers from Truecaller Directory.
Truecaller will surely be an amazing app for all smart phones; but, sharing your info through cell phone can be unsafe. Therefore, people who have concern about security should remove their contact number from the True caller.
About TrueCaller
     Also Read
Procedure to Unlist your Mobile No. From Truecaller
If you wish to remove your number from our database, True Caller have made it easy to unlist your number. Please note that if you unlist your phone number from Truecaller, you can no longer use the app. To unlist your number, please go to www.truecaller.com/unlist 
Now enter your Mobile No. give appropriate reason for enlisting your No. enter the CAPTHA and it is all done.
If you have verified your phone number, you first need to deactivate your account in the app. This is to ensure that it is the actual owner who wishes to unlist their phone number.
Follow Following steps to deactivate your True Caller account on Different Mobile operating System:
Android: Open the app >> Press on the people icon in the upper left corner >> Settings >> About >> Deactivate account.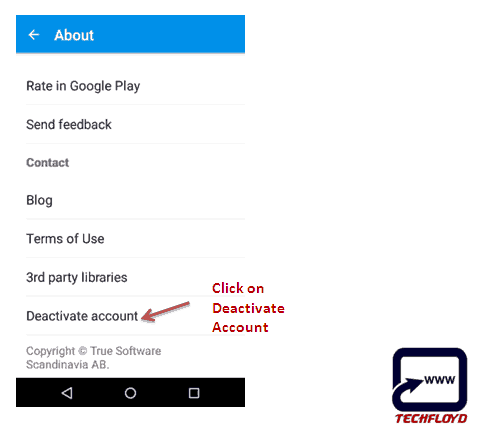 Same way follow the below steps for Windows and iPhone.
iPhone: Open the app >> Press on the cogwheel in the top right corner > About True caller >> Scroll down >>Deactivate True caller.