How Import Your WhatsApp Chat into .TXT Format
How to Convert WhatsApp Conversation Into TXT Format-: WhatsApp is the biggest Instant Messaging App and it is very hard to imagine smart Phone without WhatsApp. At the time of writing this post WhatsApp having 1 Billion user Worldwide . In my last post i have explained how to backup your WhatsApp chat, If you had a important conversation with someone and you want to save it or send it to someone in that case converting WhatsApp conversation into TXT format and send it by Email could be a Good idea rather that taking screen shot of conversation and sharing it as a Image file.Inthis Post we will learn how to convert WhatsApp conversation into.TXT format.
[wp_ad_camp_1]
How Import Your WhatsApp Chat into .TXT Format-:
STEP-:1
Head over to YourWhats App ===Any Chat conversation then click on Three Dots at Right Hand Side.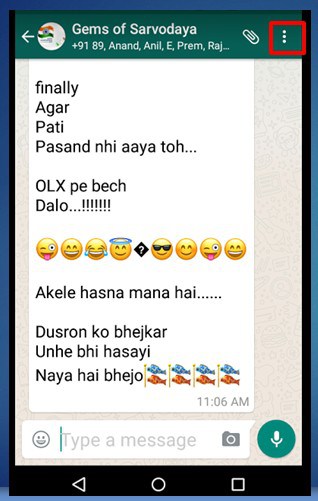 STEP-:2
Now Click on More===>> Email Chat
STEP-:3
Now WhatsApp will Ask for to attach Media with email or not , Here i am going save my chat without media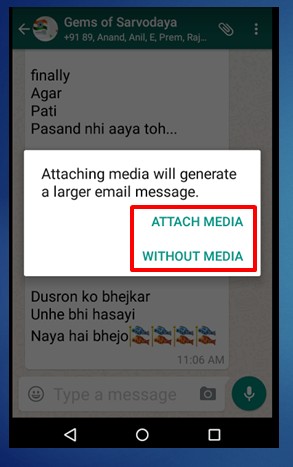 STEP-:4
Now WhatsApp Will open your Default email and most Probe it Would be Gmail. Now you can see your WhatsApp conversation attached with the email , you can save the email in Draft for your use or you can send it to someone.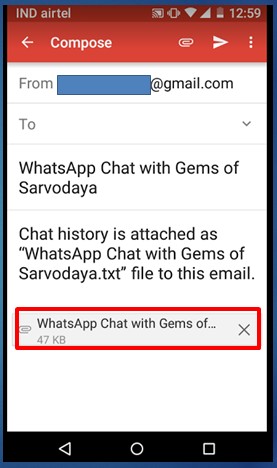 [wp_ad_camp_1]
Conclusion – : WhatsApp's taking backup of chat in. TXT format is an awesome feature to send important conversation over email. 
I hope you like my Post , If you like it  do me a favour by sharing it with your friends. You may consider to  Subscribe Techfloyd Newsletter for latest technical tips directly to your E-mail Inbox. You can also follow Techfloyd on Facebook, Google+  and Twitter.