Everything You Need To Know to Speed Up Android Mobile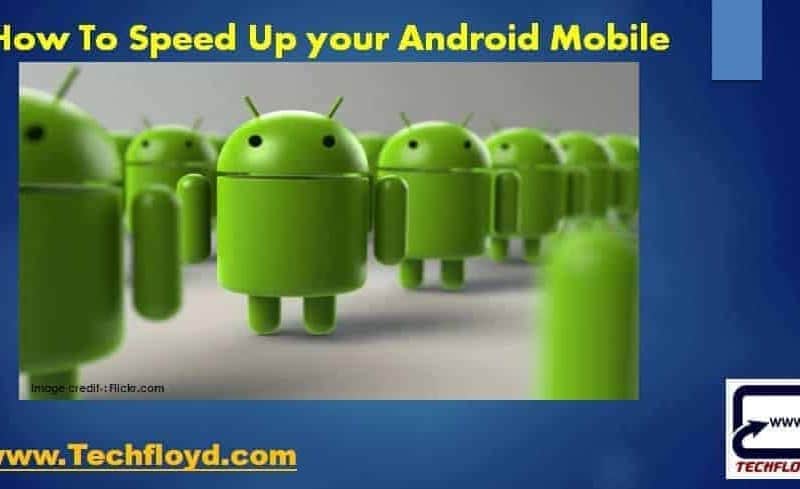 Everything You Need To Know to Speed Up Android Mobile-: Android is a mobile operating system (OS) currently developed by Google, based on the Linux kernel and designed primarily for touchscreen mobile devices such as smartphones and tablets. Android's user interface is mainly based on direct manipulation, using touch gestures that loosely correspond to real-world actions, such as swiping, tapping and pinching, to manipulate on-screen objects, along with a virtual keyboard for text input.
In addition to touchscreen devices, Google has further developed Android TV for televisions, Android for cars, and Android Wear for wrist watches, each with a specialized user interface. Variants of Android are also used on notebooks, game consoles, digital cameras, and other electronics.
Newly bought Android device does not need to implement any tips to speed up. New Android mobile phone always seems to be very fast and cool, You will not find any problem with its processing speed. but after several months of use, they seem to become less responsive, and we start thinking about how we can speed them up.
Just like in case of personal computers, there are several ways to make Android phones and tablets work faster, and they're not difficult at all – you'll just have to follow these tips
1. Remove unused apps
The first and easiest tip to speed up an Android device involves removing all apps that you don't use. I'm sure there are many unused apps in your phone (especially among those that were initially provided by its manufacturer) – you don't even remember that they exist, yet they clog your phone's system memory and can make your device much slower. Just remove them – sometimes this alone is enough to make an Android device perform faster
2. Remove Widgets
Widgets may look very attractive, but the truth is that they always in the background and drain the processing power of Android devices making them perform much worse. So if you want to speed up your phone, you'll have to remove all unnecessary widgets – you'll feel the difference at once.
3. Change Web Browser
Android is definitely a very good platform, but many geeks think it has one big shortcoming. It's the built-in web browser. It's not only very slow and buggy, but it also slows down the system, too. So if you want to make your web browsing faster and improve your phone's speed, just remove the built-in browser and replace it with an alternative one.
The market is full of different mobile browsers, and you'll definitely find one good enough if you spend some time on it. Some browsers need more room than the built-in one, but it doesn't mean that they'll perform worse. Opera Mini, for example, is a rather nice alternative to the Android browser – unlike Opera's PC version, it's really fast. And it can be downloaded for free via Google Play.
4. Use Android Booster
Usually following the three easy tips I mentioned above is enough to make your Android device work faster. But if for some reason it's not enough, you can also use some of the apps designed especially for speeding up Android phones.
Android booster, for example, is one of such apps with a wide range of features, including the ability to improve your phone's battery life and make it work faster through turning off all of the unnecessary and unused apps and processes. The app is easy to use, and it can be downloaded from Google Play for free.
5. Use Advanced Task Killer
Advanced Task Killer is another app that can help speed up your Android smartphone and tablet. Similar to Android Booster, it kills all the apps and processes that are not really necessary for you and your phone at the moment. However, unlike the previous app, it doesn't offer any other features, it's just a task killer, just as the title suggests. You can download it for free at Google Play, but there is a paid Pro version with more features, too.
If you've tried all of the tips we suggested, yet your Android device is terribly slow, maybe it's just too old and it's time to replace it with a newer one? After all, every week more and more devices join the market, and among them, you'll definitely find one that can meet all your requirements.
Conclusion-: Installation of So many Apps may result in slowing down the performance of your Android device, in this post I have explained the method to boost the performance of android device, if you have any other method to boost the performance of Android device you can leave your comment in the comment section of this post.
If you liked this article, then please subscribe to our Newsletter to get latest updates directly to your mailbox. You can also find us on Twitter, Facebook and Google Plus.