How To Surprise Someone By Sending Blank Message on WhatsApp-: WhatsApp is a Awesome messaging App which speak itself with its extraordinary quality and huge number of users , as per my point of view WhatsApp is Heart of smartphone and it is impossible to imagine smart phone without WhatsApp. There are lots of amazing thing which we can do with WhatsApp to amaze our WhatsApp contacts one of them is sending blank message on whats app.
How To Surprise Someone By Sending Blank Message on WhatsApp-:
Method -:1 Send Blank WhatsApp Message using Notepad
STEP-:1
Open Notepad on your system and type  in either ALT+0160 or ALT+255 using the number pad in your keyboard. This will add a blank space to your notepad file. Save the file.
STEP-: 2
Now transfer the notepad file to your android device with a method suitable to you.
STEP-:3 
Now open notepad file with suitable text viewer on your Android Device.
STEP-: 4
as we usually long press on the empty space to copy the content of the opened file and paste it as a WhatsApp Message to whom you want to send blank WhatsApp Message.
Method -:2 Send Blank WhatsApp Message using Third Party App
There are several applications that let you send blank messages on Whatsapp. One of those applications is Noword. You can download the apk file for Noword by clicking here.
Noword allows you to send empty or blank messages on your regular messaging app.Use it as you like it:For expressing you have no word to say…In case you don´t find the appropriate emoticon for the message…Just to say you´re still there…Infinite possibilities, you decide what to express with Noword.
STEP-:1
install the app using given link above, use the app's icon to launch it.
STEP-: 2
Simply click on the Sendbutton once the app launches. now select the contact to whom you want to send the whatsapp message.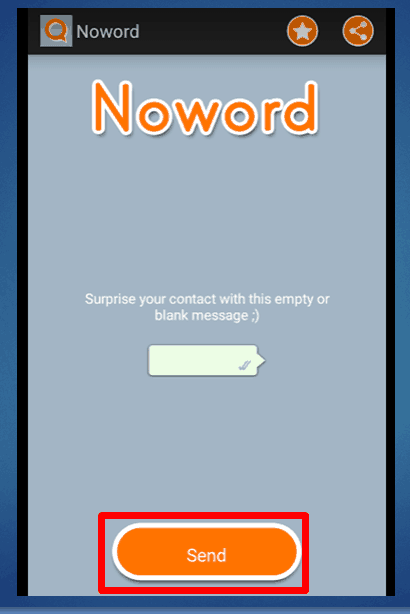 Conclusion-: sending a blank WhatsApp messing is a good idea when you have no words to say and you can surprise someone and force your WhatsApp Contacts to think about how did you send Blank WhatsApp Message and you can share this trick to your WhatsApp contacts to that they can amaze their WhatsApp Contacts with this Cool Tricks.
If you liked this article, then please subscribe to our Newsletter to get latest updates directly to your mailbox. You can also find us on Twitter , Facebook and Google Plus.