Cryptojacking : How to Stop Hackers to Mine Cryptocurrencies Without Your Knowledge
Cryptojacking: How to Stop Hackers to Mine Cryptocurrencies Without Your Knowing
Mining the cryptocurrency is new way to earn cryptocurrency. In recent time we can see huge growth in Bitcoin Crypto mining. To mine Bitcoin Cryptocurrency requires special mining rig , if you think to mine Bitcoin through your system then forget about this because will not affordable to you. You can not earn much more with Crypto mining because its running cost is huge major one is electricity and time.
What is Cryptojacking  – Definition
Cryptojacking is a type of computer hacking where someone uses your computer's power to make money for themselves without your permission. Imagine someone sneaking into your room and using your toys to make money for themselves, without asking you. That's kind of like what cryptojacking is, but instead of toys, it's your computer's power.
This can slow down your computer and make it work harder, which can cause it to overheat or even break. So it's important to protect your computer by keeping your software up to date and being careful about what you download or click on online.
Crypto Mining
Mining is only profitable to big mining companies because mining companies can minimize their operating cost.major operating cost in crypto mining is special mining rig and electricity both are big investment for common man so not affordable to common man to mine Bitcoin from home computer system.
How to Spot Cryptojacking on your PC
If you suspect that your PC has been affected by cryptojacking, it's important to take action to prevent further damage. Here are some signs to look out for that may indicate that your PC has been affected by cryptojacking:
Slow Performance:
Cryptojacking can use up a significant amount of your PC's processing power, causing it to slow down and become less responsive.
High CPU Usage:
If you notice that your PC's CPU usage is consistently high, even when you're not running any demanding applications, it may be a sign of cryptojacking.
Overheating:
Cryptojacking can cause your PC to overheat, which can damage its components and reduce its lifespan. If you notice that your PC is getting hot to the touch, it's important to investigate the cause.
Increased Electricity Usage:
Cryptojacking can cause your PC to consume more electricity than usual, leading to higher energy bills.
Unusual Network Activity:
Cryptojacking requires a connection to a mining pool, which can lead to unusual network activity on your PC. If you notice that your PC is sending or receiving large amounts of data, it may be a sign of cryptojacking.
Browser Extensions:
Some cryptojacking attacks occur through malicious browser extensions. If you notice any unfamiliar or suspicious browser extensions, it's important to remove them immediately.
You can use antivirus software to scan for and remove any malware that may be causing the issue, and install ad-blockers to prevent future attacks through ads on websites. By staying vigilant and taking action when necessary, you can help protect your PC from cryptojacking attacks.
Actionable Tips to Stop Cryptojacking
Fortunately, there are several steps you can take to prevent hackers from mining cryptocurrencies without your knowledge. Follow these tips to protect your device from cryptojacking attacks. Remember to stay vigilant and take action if you suspect that your device has been compromised.
Use antivirus software:
Antivirus software can help detect and prevent cryptojacking attacks. Make sure to keep your antivirus software up to date and run regular scans to ensure your device is protected.
Keep your software up to date:
Cryptojacking attacks often exploit vulnerabilities in outdated software. Keep your operating system, web browser, and other software up to date to ensure that any known vulnerabilities are patched.
Install ad-blockers:
Some cryptojacking attacks occur through ads on websites. Installing ad-blockers can help prevent these attacks from occurring.
Be cautious of downloads:
Downloading software or files from unknown sources can put your device at risk of cryptojacking. Only download from trusted sources and be cautious of any warnings or prompts that ask for permission to access your computer's resources.
Monitor your device's performance:
Cryptojacking can slow down your device and cause it to overheat. Monitoring your device's performance can help you detect any unusual activity and take action to prevent further damage.
Use a Virtual Private Network (VPN):
A VPN can help secure your internet connection and protect your device from cryptojacking attacks. Use a reputable VPN service to ensure your device is protected.
How Check PC Performance
Cryptojacking is a method to mine the Cryptocurrency by utilizing the resource of someone's system without the permission of system owner. In general to become victim of Virus or malware when we install in on our system but In-browser cryptojacking doesn't need a program to be installed.
You will experience performance of your system decreased. If you were cryptojacking victim Your laptop get heated and laptop battery will drain fast. To protect yourself from cryptojacking monitor the CPU usage equal interval of time. To check your CPU usage when Mining and without mining visit www.coinhive.com and start mining. Or go to this link https://www.troyhunt.com/i-now-own-the-coinhive-domain-heres-how-im-fighting-cryptojacking-and-doing-good-things-with-content-security-policies/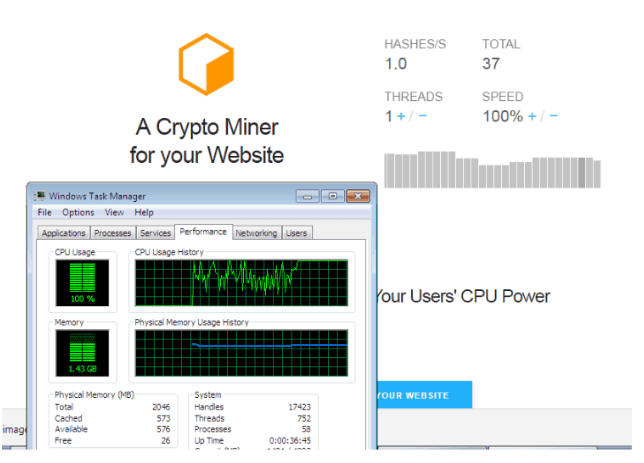 When Mining Stop CPU usage comes to 63 %. this is a way to check CPU usage before and after mining..if you are not performing any complex task on your system and you see CPU usage 100% then you might be Cryptojacking victim.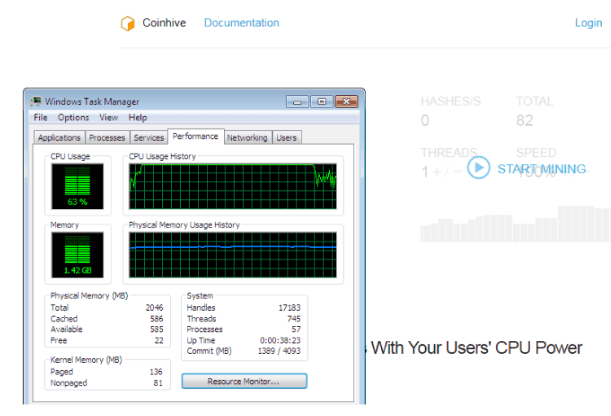 You can protect yourself from cryptojacking by installing a simple chrome extension known as NoCoin this chrome extension is awesome and it works very fine with Google Chrome.
If you mine Crypto with your system then you can easily white list the action for certain time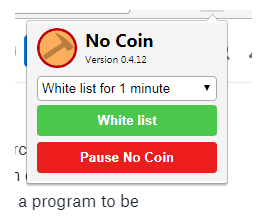 No coin is pretty handy to block coin miner like Coinhive . It features an easy way to allow miners for a limited time in case you need to pass a captcha or shortlink requiring mining.