Cryptojacking : How to Stop Hackers to Mine Cryptocurrencies Without Your Knowledge
Cryptojacking : How to Stop Hackers to Mine Cryptocurrencies Without Your Knowledge-: Mining the cryptocurrency is new way to earn cryptocurrency. for more info on crypto mining you can refer post A Beginner's Guide to Cryptocoin Mining. In recent time we can see huge growth in Bitcoin Crypto mining. to mine Bitcoin Cryptocurrency requires special mining rig , if you think to mine Bitcoin through your system then forget about this because will not affordable to you. You can not earn much more with Crypto mining because its running cost is huge major one is electricity and time.
 Mining is only profitable to big mining companies because mining companies can minimize their operating cost.major operating cost in crypto mining is special mining rig and electricity both are big investment for common man so not affordable to common man to mine Bitcoin from home computer system.
cryptojacking is a method to mine the Cryptocurrency by utilizing the resource of someone's system without the permission of system owner. in general to become victim of Virus or malware when we install in on our system but In-browser cryptojacking doesn't need a program to be installed.
You will experience performance of your system decreased. if you were cryptojacking victim Your laptop get heated and laptop battery will drain fast. To protect yourself from cryptojacking monitor the CPU usage equal interval of time. To check your CPU usage when Mining and without mining visit www.coinhive.com and start mining.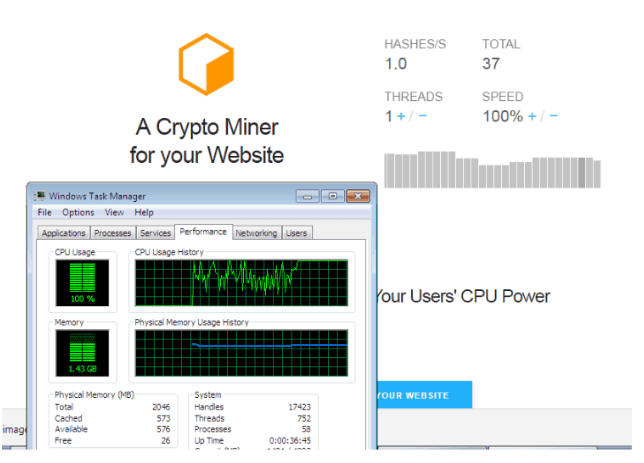 When Mining Stop CPU usage comes to 63 %. this is a way to check CPU usage before and after mining..if you are not performing any complex task on your system and you see CPU usage 100% then you might be Cryptojacking victim.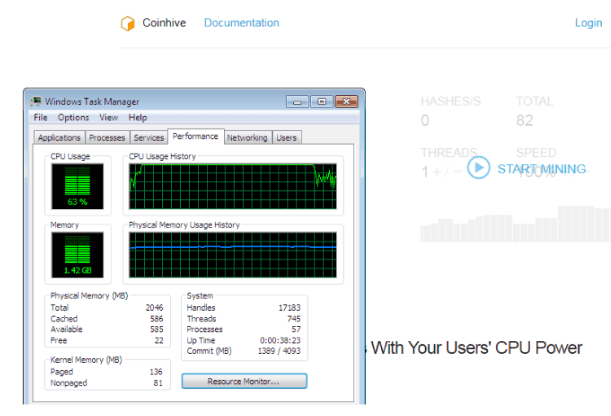 You can protect yourself from cryptojacking by installing a simple chrome extension known as NoCoin this chrome extension is awesome and it works very fine with Google Chrome.  
 if you mine Crypto with your system then you can easily white list the action for certain time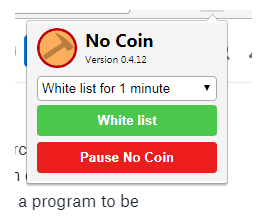 No coin is pretty handy to block coin miner like Coinhive . It features an easy way to allow miners for a limited time in case you need to pass a captcha or shortlink requiring mining. 
Note-: This Post Already Published on My Steemit Channel, You can Follow me on Steemit as well, at https://steemit.com/@amar-patel/feed.
I hope you like my Post , If you like it  do me a favour by sharing it with your friends. You may consider to  Subscribe Techfloyd Newsletter for latest technical tips directly to your E-mail Inbox. You can also follow Techfloyd on Facebook, Google+  and Twitter.