How to Increase the Speed of Firefox Browser -: If you have a broadband Internet connection and use Firefox you can decrease the time for each web page you visit loads by enabling pipelining. Pipelining makes Firefox load more than one request at a time for each page it loads. In other words, if the page you are visiting has dozens of images it will load more than one image at a time, making the web page appear faster. Follow the steps below to enable pipelining in Firefox.
In the address bar type about:config and press enter.
In pipelining in the search box, as shown below. Double-click network.http.pipelining to set the Value to true.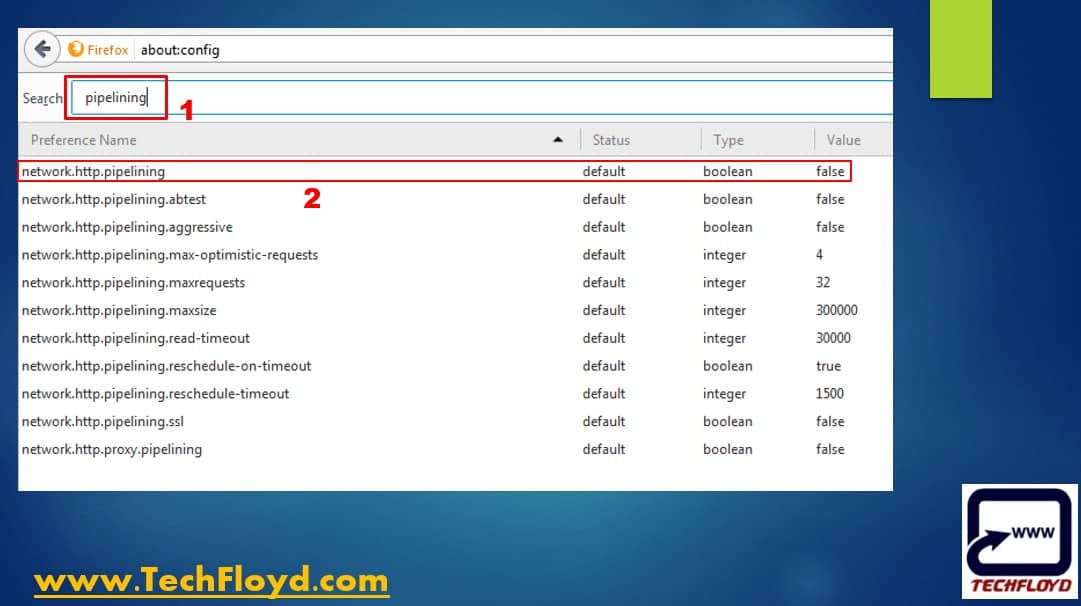 Double-click network.http.proxy.pipelining to set the Value to true.
Make sure network.http.pipelining.maxrequests is set to a value of more than 30.
Right-click in an empty portion of the about:config window and click New and then Integer. Enter nglayout.initialpaint.delay as the name of the integer and for the value make it 0.
Conclusion-: Mozilla Firefox is a Awesome web Browser , it never lag behind in the term of any parameter with respect to Google Chrome and its version Firefox Quantum consume less memory than Google Chrome and it only stand alone web browser but nobody cares and it have less market share as compare to Google Chrome. In this post i have figured out best tips to optimize speed of Mozilla Firefox.
I hope you like my Post on How to Increase the Speed of Firefox Browser If you like it, do me a favour by sharing it with your friends. You may consider to  Subscribe Techfloyd Newsletter for latest technical tips. You can also follow Techfloyd on Facebook, Google+ and Twitter.