How to Backup Android Phone Contacts to Your Google Account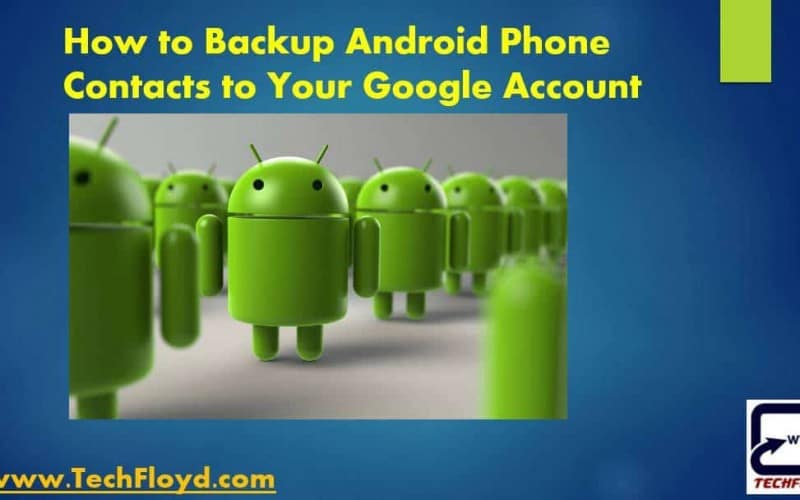 How To Export Contacts From Your Android Device To Your Google Account: – Backing up Phone contact is very Important because anything can happen with your Smartphone In this post we will learn how we can take backup of stored contacts on our phone and how we can Sync our Phone contact to our Google Contacts.
How to Take Backup of Stored Contacts on Your Phone
STEP 1
Open the Contacts app in your Android device. Now click on the 3 dotted icon at the bottom left corner of your screen. From the context menu that appears, find and click on the option named Import/Export.
STEP 2
Once you Click on Export to Storage a pop-up message will be displayed to the location of your contact.
STEP 3
Now next step is to go at path location and save this file to your mailbox or cloud storages service like Google Drive in the case you lost your phone or purchase the new phone just import your contact file as shown below.
How to Sync Your Phone Contact With Google Contact
Google Contacts is Google's contact management tool that is available in its free email service Gmail, as a standalone service, and as a part of Google's business-oriented suite of web apps Google Apps.
Silent Features of Google Contacts-:
Optional sorting of contacts into groups and arrangement by first or last name.

Contacts can be provided in a large number of categories with information.

Extensive search function.

Changes to contacts are automatically saved.

Ability to restore the entire database from a time within the last 30 days.

Easily find and merge duplicates.

Keyboard shortcuts for simplified handling.

Integration with other Google products.
Open the contacts App pn your Android Device and Click on Accounts.
Select Google Account to Syns Your Phone Contact With Your Google Account.
After Clicking on Google Account You will Come to know your contact Sync with different Google's Product and service.
In the case, if you lost your phone just log on to Google Contact to get your all Phone Contact.
[wp_ad_camp_1]
I hope you like my Post on How to Backup Android Phone Contacts to Your Google Account  If you like it, do me a favour by sharing it with your friends. You may consider to  Subscribe Techfloyd Newsletter for latest technical tips. You can also follow Techfloyd  on Facebook, Google+  and Twitter.