The 5 Best youtube to mp3 converters to use in 2020: an honest review
A free Youtube to mp3 converter can be a piece of software or a simple website that helps you capture the audio from YouTube videos and save it in your desired format, in mp3 or others, all with the help of a few simple clicks.
Many of these websites/programs, however, are built without any convenience for the users.
Some are filled multiple layers of annoying ads and popups, some have waiting time restrictions, others are just simply slow due to cheap servers.
In this article, I've collected, in my opinion, the best free youtube to mp3 converters for personal use in 2020. Some of the platforms I've discovered recently while others have been in my regular use for years now.
Keep your downloads safe – check out my list of free trial VPN services.
Why should you go for a youtube to mp3 converter?
Converting videos to audio files allows you to listen to music, podcasts or audiobooks while you're at work or doing house chores, without the need of an internet connection.
Again, the emphasis being on "personal use". Since a lot of popular stuff on Youtube is heavily copyrighted, it's best to mess with angry corporations and only download stuff you're permitted to. Youtube's terms of service clearly emphasize the possible consequences of illegal downloads.
Anyway, here are my choices for the best mp3 converters of youtube videos. This list includes both software and websites that will get the job done.
1.YtMP3 – My favorite free youtube to mp3 converter
In my opinion YtMP3 is by far the best youtube to mp3 converter out there, there's not much doubt about it on my side.  The main reason which really sells me this platform is its simplicity. No annoying pop ups, or inappropriate display ads. Just a box to paste a video link, convert it and download it within a matter of seconds.
If you're looking for the fastest way to download a few songs or audio clips from youtube to your computer, tablet or mobile phone, YtMP3.cc is definitely the best choice for anyone.
Pros
Fast download speed – Like I've mentioned already, this is one of the quickest mp3 downloaders out there with video conversions happening in a matter of seconds. I think you can allude this to the website's great servers for the most part. Considering that there are no annoying ads as well, this is converter is a true diamond in the rough.
No advertisements – Absolutely no popups, redirects or annoying ads show themselves as you use the platform. Seeing that many other converters have countdown or "ghost" download buttons, this another plus for the user as downloads become a less troublesome task.
Allows to download in mp4 – lastly there's an option for mp4 downloads if you want to do so. Let's say you grab a song off of Youtube but also want to download a video to watch on your computer or phone later on. Well, you can do that. Simply paste the link of the video after selecting the mp4 download option and you're done.
Cons
No formats – Some youtube to mp3 converters, including others on this list, allow you to save audio not only as mp3s but wma, ogg, wav and other file formats. Since we're saving songs for casual use, however, I don't think it would make a huge drawback for the majority of people.
Some content restrictions – One other drawback is the fact that not all videos are downloadable, there are some content restrictions for certain songs from certain artists. So, there's that, but considering the nature of our downloads in the first place, I think it's best to appreciate what you get.
Links last 24hrs – lastly, there's the download link itself. After you convert the video you get a link to use for downloading of the song for 24hrs. Unless you want to send it to a couple of friends for download as well, this won't affect you much. Nevertheless, it's a minor drawback.
I remember when internet wasn't always available back in my college days and YtMP3.cc helped me a number of times, allowing to enjoy my favorite artists on my way to and back from school.
This is an honest review and that comes from a couple of years of experience, so choose this converter for your simple everyday use.
2.Convert2mp3 – a flexible option not limited to Youtube videos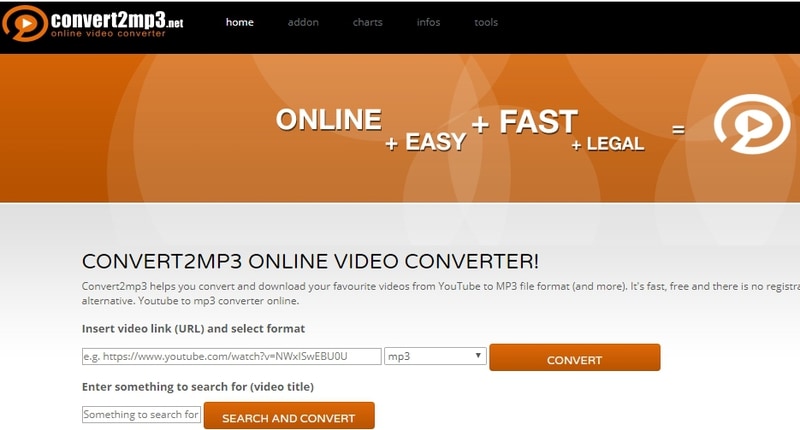 Another great youtube to mp3 converter in my opinion is called simply "Convert2mp3".  It's greatest is feature is without a doubt, its flexibility. You see, the platform allows you to not only grab audio from Youtube but also Dailymotion and Clipfish, two additional video hosts.
Just like with the previous tool, you just a paste a link and that's it, no need for registrations or subscriptions and you can get your mp3s with ease. What's more there's other audio you can choose from if you prefer to do so.
Pros
Flexibility – in terms of audio and video formats Convert2Mp3 is second to none. Apart your standard mp3, you can choose between m4a, aac, flac, ogg and wma formats if you need a specific type of audio. Same applies for video conversion as well which includes mp4, avi, wmv and 3gp formats, so you can choose one to your liking. Along with this comes the fact that you can download other websites, as an alternative to youtube. Dailymotion could be especially useful in this case, since there's a lot great content there as well.
Search video option – just below the conversion bar for video, there's an option that's unique to the platform itself – the "Search and Convert" section. This is a very neat feature which allows you to search for videos by title without the need of going on youtube, getting the link, copying it and then converting it. Just type in either a title and you'll get search results from all 3 websites and of course download them immediately via your selected format.
Reliability – this is more subjective, but I think they have one of the most reliable conversion servers out there. No matter when I had a video I needed to quickly grab audio off, the site always seemed to work properly and without issue.
Cons
Popups and advertisements –  sometimes before  popups may appear as you click the convert or download buttons. It's a bit annoying, but if you ignore it, it will do the job wonderfully. The ads appear even if you have and adblock plugin installed, so there's no avoiding them.
Video conversions are slower – if you want to convert a video from youtube, especially if its a longer one, it may take a few minutes. Of course,  this applies to most converters, as even the mightiest platforms might take some time to convert your favorite podcast or vlog for downloads.
Not the best UX – I wouldn't say the website is plain ugly, however some design elements are questionable in my opinion, which make User Experience a bit less friendly. Both, the link conversion and search bars would look much better if they were a bit bigger, since that makes it easier to see if you pasted the right link and entered the correct keyword. Also, the download button looks like it was with basic HTML in mind. Not very professional looking.
Overall, I would rate convert2mp3 as a close second on my list of top youtube to mp3 converters out there. Sure, there may be some drawbacks, however the platform is great for its main purpose converting youtube videos to mp3 files.
If improved, especially on the design part, I think the platform could be improved even further.
3.Converto – a Youtube to mp3 converter with editing tools
Ok, I'll be honest, this one was hard to rank third since Converto can be great for the user in a number of ways. In my opinion what separates this converter from others is the way its focused towards song downloading. A great user experience is another plus in my book.
If you not only want to download your favorite song on your device, but even edit it on the spot, Converto is a great tool for that. Simply paste the link and your ready to download.
Pros
Editing tools for audio files – this is a great tool for those who want to not only convert their videos from youtube but edit the mp3s to their liking.  Let's say there's an intro or outro from a video that's not part of the song and you want to remove it. You can use the cut tool to do so. Simply click the gear button to the right of the converted video and you'll enter the edit menu. Apart from the audio cutting, there's and option for selecting the format (either an mp3 or mp4). Along with this, you have an option to edit your songs ID3 tags (Artist, Title, Album and Covert Art) and file name. This is a very user-oriented feature that not many other video converters can offer and allows to group your mp3s the way you like them.
Simple and user-friendly design – I'm a big fan of making a thing as simple as possible, without sacrificing a good looking design and functionality. This is why converto gets praise from me as well. I like the fact that there's basically two main elements that your attention is focused on – the button for choosing the format of your exported video, and the text field for your URL and there's that. If you don't care about edits, you can just convert an mp3 and be done with.
Cons
Simplicity may repulse some – not a huge drawback but with Converto you only get mp3 downloads with a few basic features. That's what the platform is aiming for. Still, if you're looking for an editor that has more features to offer, then this is not the tool for you.
Short lasting links – again, a small drawback is the fact that your download links last only 24 hours. If you want to share it for others to use, you can only do it within a very limited time span.
In my opinion Converto is a tool that executes what its aiming for with perfection. If you want a simple youtube to mp3 converter without any other nonsense, then this is definitely the option for you.
Perhaps if the devs add more functionality down the road, Converto could grow even more in popularity amongst mp3 downloaders.
4.Free Video To Mp3 Converter – lots of flexibility and speed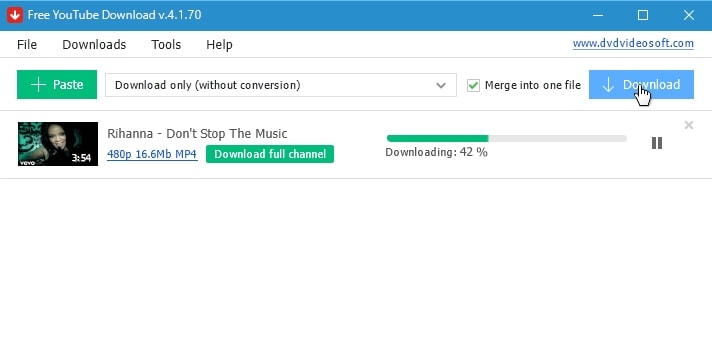 This another tool that I've used for quite sometime, so I think I have a right to give a proper opinion on it. A piece of very good software from DVDVideoSoft allows you to download not only standard videos in mp3 format, but queue multiple youtube videos at the same time if you want to do so.
With a few clicks, you can download the tool on your PC and begin getting audio or video files in no time.
Pros
All audio/video formats supported – One of the great advantages of this converter is its flexibility in terms of formats. When you download youtube videos you have the option to export it in both audio and video formats of various types.  Select either "Download Only" if you want to grab the video itself, or select the conversion option if you want to only download the audio. Simply copy the URL of the video, click "+Paste" and "Download" on the right in order to grab the videos of Youtube.
Multiple videos/channel support – Another wonderful feature of this program is the fact that it allows you to queue multiple videos for download at the same time. This includes not only videos from different sources, but playlists and even entire Youtube channels in one sequence. While this task will be more time consuming, nevertheless its a useful feature if you want to download an entire album or set of songs at once.
Cons
Adware – One drawback are ads that appear throughout the app. I mean, they're not too annoying or anything,  but the fact that there's some advertisements throughout the menus might seem repulsive to some. I personally don't find them bothersome, as they don't interrupt with my downloading habits. Also, there's some third-party apps to be aware of when installing the video converter, be sure to uncheck anything you don't want to have on your PC.
Dated look – another flaw, I think, comes from the design of the app. The look is very stripped down to say the least and there's nothing fancy about it. If you are looking for an app to simply get the job done and you don't care about the design, then you won't mind this at all. Still, I think the devs could work more on the design aspect to make it more appealing to people, but I doubt that will happen since the minimalistic aesthetic has been signature to the app for years now.
While the Free Youtube to MP3 Converter is nothing flashy, it's certainly gets the job done. In fact, in terms of efficiently downloading youtube videos as audio, the app passes with flying colours in my opinion.
If you are looking for a video converter that's basic, but has great functionality and reliability for the user, definitely give this one a try.
5.YTD Video Downloader – another great piece of software to convert youtube videos to mp3 audio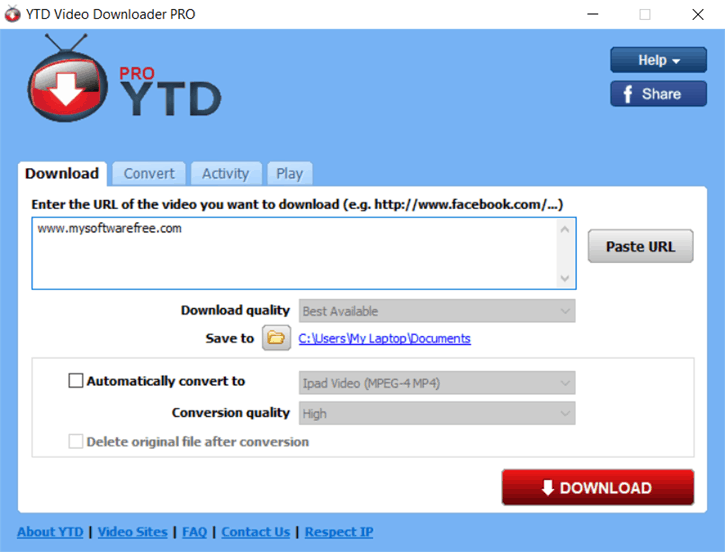 YTD is another one of my favorites for its easy-to-use and functional approach – the main reasons for being included in this list of free youtube conversion apps. The downloader allows you to grab not only youtube videos but other website such as Dailymotion and even Facebook.
While it may seem as a bit of a complicated piece of software, that's not the case of all. It's a simple and stable way of getting songs downloaded off of Youtube.
Pros
Flexibility – not only can you download your beloved songs from youtube with the help of YTD, it allows you play the downloaded material from others websites. In fact, if you purchase the Pro version of this converter you'll be able to download material from more than 60 video websites.
Pausable downloads – Let's say you have to go away from your computer and can't download your songs immediately. That's not a problem as YTD let's you pause and continue the download process whenever you want later on.
Very user-friendly – another thing I've found very appealing about this youtube video converter is the fact that's its very user-oriented. It may seem like a more complicated app due to its design, but that's not the case. Try it out and you'll see for yourself, you'll get the hand of it in no time.
Cons
Free version is limited – the Pro version of the YTD video converter seems to be much better equipped in terms of functionality than the free version of the tool. With it you get batch downloads, faster download speeds and even email support from the devs.
One video per download – another feature available only to Pro version users are the batch conversion and download feature. So, if you want to download that new Drake album that just came out, you'll have to do it song by song.
Occasional speed download drops – I've seen some complaints online that YTD tends to slow down with its downloads from time to time.  Considering that the Pro version promises faster downloads, I doubt they're plan to boost the download speed for the free version anytime soon. Personally, I think the speed is decent for what it is.
Overall, I think YTD is still a very useful tool to convert youtube videos on the regular, despite its obvious limitations.
While the lack of batch downloading, questionable speed at times, certainly hurts its ranking in my book, I still think the YTD Video Downloader is very much worth your time and is one of the best youtube to mp3 converters out there.    Mainly because of the great design, flexibility and reliability of the app itself.
All in all
In this article, I've given my thoughts on what I think are the the 5 best youtube to mp3 converters out there. Whether online or in software form, each of these tools can make your life easier when grabbing audio from youtube videos and can offer a unique set of features.
Try them out and see what works for you the best!