Understand The Background Of WhatsApp And Start Using Signal Private Messanger Now
Understand The Background Of WhatsApp And Start Using Signal Private Messanger Now-: Since the disclose of the Facebook data practice of its user with Cambridge Analytica, it put a big question in front of me to use services owned by Facebook especially WhatsApp. it is observed by many Facebook user that Facebook monitor our personal conversation on WhatsApp app and shows the similar ad on Facebook Feed.
Whats App also provides end to end encryption between you and whom you are chatting but the question arises what about the encryption of data stored on the server of WhatsApp. Let me explain you with an example if you are chatting with someone about your journey plan once you finish your chat log into Facebook you will see lots of ads of travel planning website. Facebook and Google are like next door Aunty who listen to our personal family conversation and provide unnecessary advice which we do not want.
Signal Messaging App-: Fast, simple, secure.The privacy that fits in your pocket.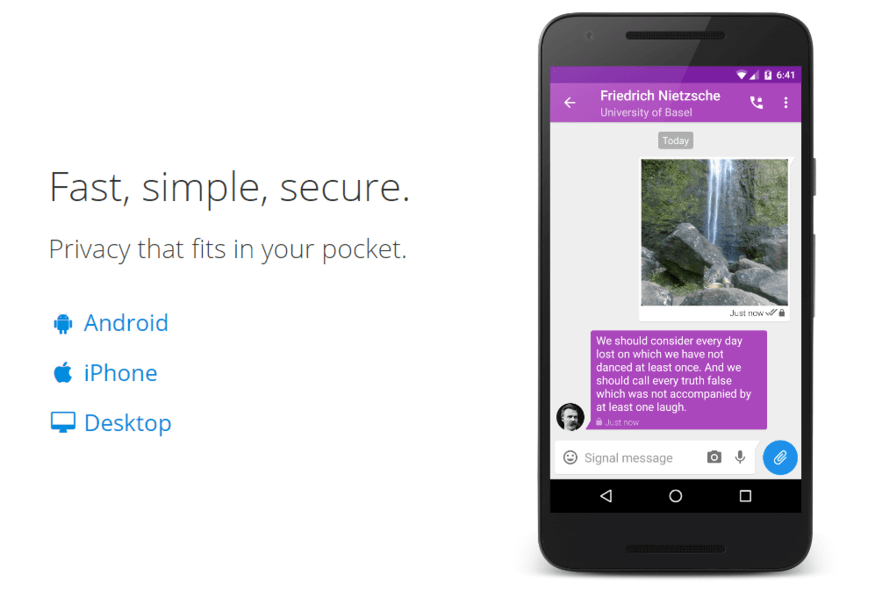 After searching the Internet I found signal messages which are the best alternative for WhatsApp which is Signal. Signal is a popular messaging service that got a perfect score from the Electronic Frontier Foundation. You can do all the things you would normally do through text messages, like have group messages and send photos and videos. Except that everything's encrypted.
Silent Features of Signal Private Messenger-:
★ Say Anything. Signal uses an advanced end to end encryption protocol that provides privacy for every message every time.
★ Open Source. Signal is Free and Open Source, enabling anyone to verify its security by auditing the code. Signal is the only private messenger that uses open source peer-reviewed cryptographic protocols to keep your messages safe.
★ Be Yourself – Signal uses your existing phone number and address book. There are no separate logins, usernames, passwords, or PINs to manage or lose.
★ Group Chat. Signal allows you to create encrypted groups so you can have private conversations with all your friends at once. Not only are the messages encrypted, but the Signal server never has access to any group metadata such as the membership list, group title, or group icon.
★ Fast. The Signal protocol is designed to operate in the most constrained environment possible. Using Signal, messages are instantly delivered to friends.
★ Speak Freely – Make crystal-clear phone calls to people who live across town, or across the ocean, with no long-distance charges.
WhatsApp is the most downloaded app on google play store, WhatsApp publishes data that how many users using WhatsApp on the other side Signal does not publish its data. As Google Play Store shows the downloaded data of App, at the time of writing this post, Signal downloaded 225,603 total with 4.6 user rating out of 5 on Google Play Store. this shows that Signal is taking over the WhatsApp in term of privacy and security.
It is very hard to switch from WhatsApp to Signal because your Friends, family and relative already using WhatsApp, you can tell your Friends Family and relative about Signal feature and request to install them, the way you can eliminate WhatsApp, Use Signal as your Default messing App.