Wikiwand: Good old Wikipedia Gets a Great New Look For Better Reading
Wikiwand: Good old Wikipedia Gets a Great New Look For Better Reading-: Wikipedia is a great source of knowledge and it is ranked 10th underworlds top most website, for most of the searches we find Wikipedia articles on top of the search list. Wikipedia is under top search website because it provides all information about anything at one place with proper interlinking of article and resources.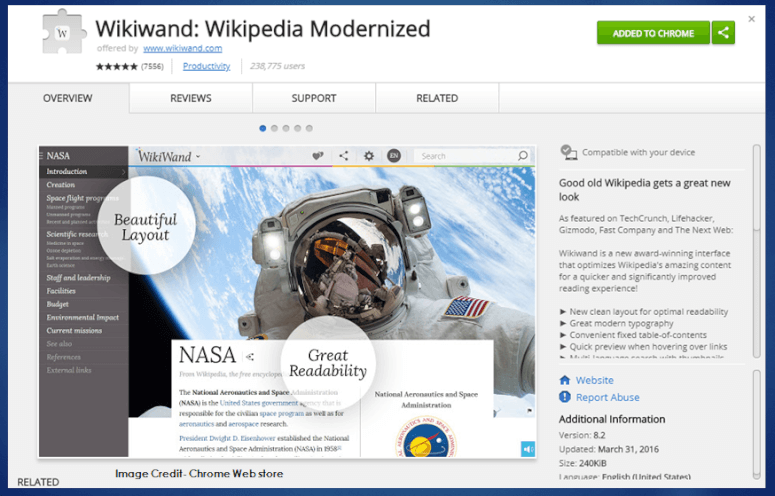 In this post, I will talk about Wikiwand Chrome extension and its features. Wikiwand is a new award-winning interface that optimizes Wikipedia's amazing content for a quicker and significantly improved reading experience. Wikiwand is a very lightweight extension, hence does not consume much more system resources.
Silent Features of Wikiwand-:
New clean layout for optimal readability.

Great modern typography.

Conveniently fixed table-of-contents.

 Quick preview when hovering over links.

 Multi-language search with thumbnails.

 Beautiful, immersive cover photos.

 Larger photos and better media gallery.

 Easy article narration and audio playback.

Color, font and layout personalization.
while browsing Wikipedia you will get the option to read with Wikiwand once you install the extension. After installation of extension if you open anything through Wikipedia, if that article is on Wikiwand, it will automatically open with Wikiwand, this extension works in the very simple way The extension replaces links to Wikipedia articles with links to the same article on Wikiwand.
Conclusion-: After using this extension, I found that it is the best extension for those who use Wikipedia a lot in their daily life and works very fine with all type of modern browser.
I hope you like my Post If you like it do me a favour by sharing it with your friends. You may consider to  Subscribe Techfloyd Newsletter for latest technical tips directly to your E-mail Inbox. You can also follow Techfloyd on Facebook, Google+  and Twitter.